Womack Army Medical Center will open two Community-Based Medical Homes (CBMHs) in March. One clinic will be located 3351 South Peak Dr. in Hope Mills, and one will be located at 2350 Bentridge Ln. in Fayetteville off Raeford Road. The clinics will serve active-duty families who would like to enroll in these two clinics.
"The idea behind this concept is that the Army is delivering the promise of improving access to care and increasing customer satisfaction in a community based setting," said Col. (Dr.) Niel Johnson, director of Community-Based Medical Homes (CBMH) at Womack Army Medical Center.
"In many ways, these clinics will represent a great improvement in how primary care is provided across the Army. The staffing, funding and design of the CBMHs are our chance to get it right."
The entire staff will be permanent civilian employees, which eliminates the problems that arise when military providers deploy or get called away for nonclinical duties.
"Continuity of care is very important. These two clinics will be designed so that the patients will see their healthcare provider 90 to 95 percent of the time. It will allow our patients to establish a relationship with their provider and will be able to develop a more personalized and comprehensive care plan for each patient," added Johnson.
Enrollment has begun, and is on a voluntary basis, based on specifi c zip codes surrounding the communities where the clinics are. "Patients satisfi ed with their current doctors on or off post will not be forced to move," Johnson says. New families moving to the area, however, will be enrolled to the new clinics if they live in the affected zip codes.
Each clinic will serve approximately 8,000 family members, most of whom will shift from existing Fort Bragg clinics. "This will help us right-size enrollment across the entire WAMC system and increase capacity for retirees and their family members to return to WAMC for their primary healthcare," according to Lt. Col. Charles McKeithen, special projects offi cer for WAMC's Clinical Operations Division.
The new Community-Based Medical Homes will offer support services similar to existing Fort Bragg clinics. Each will be equipped with its own lab and pharmacy, however, radiology services will be available at a local radiology imaging center near the clinics or at WAMC.
These clinics are designed with the medical-home model design concept in mind which promotes a team approach to every single patient. Each clinic's two teams will have two board-certifi ed family physicians and one family nurse practitioner serving as primary care managers. A complete nursing staff of four registered nurses and 18 licensed practical nurses will support the providers on the care teams. In addition, a physician assistant will be on hand to augment the teams and provide coverage whenever and wherever it is needed, and a licensed clinical psychologist will be available for all behavioral-health needs.
The medical-home model is more than providing episodic care and allows the care teams to be more proactive with their population. "Personalized, synchronized case management is the hallmark of the medical-home concept," says Johnson. "We will be looking out for our patients' needs when they're healthy, and, of course, we'll be more than ready to take care of them when they're not."
"The medical-home team concept allows us to be more effi cient and focus on the patient. We'll also see an increase in staff satisfaction as they will all be operating within the scope of their licensure — physicians will do physician work, nurses will do nurse work and administrators will do administrative work" said James Alarcon, group practice manager for the Fayetteville Clinic. "It will allow the care team to focus on the patient and deliver care within the s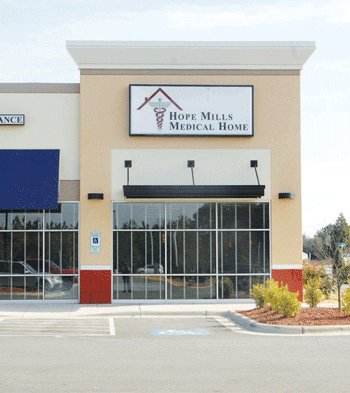 cope of their training and experience."
"When a patient receives care outside of the community-based medical home, in the emergency room, hospital or subspecialist's offi ce, the patient's care team ensures that care is coordinated and integrated into the comprehensive care plan," said Terry Oaks, group practice manager, Hope Mills.
All active-duty family members who wish to enroll, that are currently enrolled to either an on-post primary-care clinic or to a civilian network provider and who live within the appropriate zip codes should go to their Fort Bragg Primary Care Clinic patient representative or registration clerk for details. For those family members currently enrolled in a civilian network, they can contact any of these clinics in order to enroll.
Photo: Hope Mills Medical Home.