A few weeks ago Bill Bowman of the Up & Coming Weekly and Kidsville News! called and asked for my help. He asked me to co-captain with him on the committee for the upcoming Hogs and Rags charity event. After we talked a few minutes I agreed to help. I don't know Bill very well but his enthusiasm is contagious. Over the past few weeks I have found it very exciting to be a part of something that really will help a lot of people.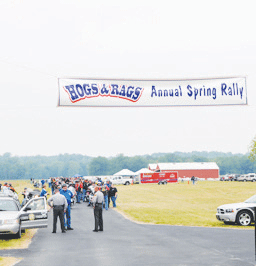 Saturday, April 30, is going to be a great win/win event for everyone.
Hogs and Rags is an annual event for owners of motorcycles and convertibles to raise money for a variety of charities. This year, the proceeds will go to the Shriners Hospital for Children, the American Cancer Society and Kidsville News! of Cumberland County.
The event is part of the Fayetteville Dogwood Festival. The ride is a very nice route from Fayetteville that will end at Landry's Seafood Restaurant at Boardwalk on the Beach in Myrtle Beach, S.C.
The ride is $50 per entry and $30 for additional passengers. At first that seems like a lot of money, but remember it is for a good cause. The best part is that it includes a breakfast and lunch. The event will start at 8 a.m. at Cape Fear Harley Davison with breakfast. Kickstands up at 9:30 a.m. Once you reach Myrtle Beach you will be treated to a wonderful lunch. You just can't beat that!
I know I keep saying this is a win/win event (because it is), but it is not the Shriners Hospital for Children or the American Cancer Society or Kidsville News! of Cumberland County that wins but the people that they touch.
I had a nephew that burned himself from his chest down and the Shriners Children's Hospital helped him through rehab and put his family up during this terrible ordeal. They helped him heal and go through rehab. They bless so many children and families when they need the help the most.
Cancer is a terrible thing to go through. Cancer is one of the few illnesses that medical breakthroughs are changing before our eyes. Twenty years ago the "C-word" was a death sentence. Today, there is still a long way to go. The news is frightening but usually delivered with hope and options in many cases. The fight is not over and there is still a lot of research, treatments, and people that really need your help.
The Kidsville News! publication is a great literacy and educational resource provided free to children, teachers and families in Cumberland County. It is a wonderful way to help our children read and learn. Check it out at www.kidsvillenews.com/cumberland.
The Hogs and Rags charity fundraiser is for all types of motorcycles and convertibles. This includes Jeeps. So all of you bikers and open-air lovers in town please come out and join us!
This is going to be a great time so mark your calendar and tell your friends.
You can pre-register or make donations online at www. hogsandrags.com. See ya there! Hogs and Rags is an annual Dogwood Festival event for motorcycles and convertibles to raise money for a variety of good causes.