Fayetteville City Councilman Bobby Hurst talks a lot of trash. But not in a bad way. Hurst, the chairman of the Fayetteville Beautiful Committee, is always ready to talk about his drive to make the community a better place by cleaning it up and getting rid of all the trash.
These days Hurst is particularly busy as the organization gears up for its annual Fayetteville Beautiful Citywide Clean-up that is scheduled for April 16. The day-long event brings people from all walks of life together to work toward one goal: beautifying our community by eliminating the rubbish that makes its ways to our city's streets, side roads and fields.
Founded several years ago by Hurst and like-minded citizens, Fayetteville Beautiful's goal is to encourage others to take greater responsibility for improving their environment.
The group looks at why people litter and where they litter. According to Hurst, people littler because:
• They don't feel a sense of ownership;
• They believe someone else will pick it up; and
• They litter in areas where litter has already accumulated
Hurst believes the key to a long-term sustainable solution for a more beautiful Fayetteville is its success at changing individual behavior and attitudes about litter.
In order to change those attitudes, Hurst sees sweat equity as a big piece of the puzzle. The volunteers who come out each year for the cleanup themselves into the project. They go into areas where the litter index is the highest and walk the roads picking up the trash. The trademark orange bags dotting the roadside are a sign of the clean-up's success.
Each year in the weeks prior to the clean-up, Hurst and several other key city leade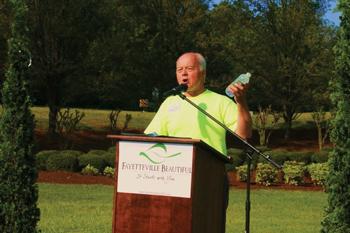 rs go out into the community to create the litter index. The index is a measurement tool that is essential to identifying and understanding the extent of the litter problem in Fayetteville. Designed by Keep America Beautiful for local communities, the index helps defi ne problem areas and then drive discussions about solutions.
Last year, the solution included the pick-up of 20,075 pounds of litter by more than 800 volunteers. Over the course of the past six years, almost 6,000 volunteers have banded together to make Fayetteville more beautiful one road at a time. Those volunteers have picked up 72 tons of litter spread across more than 250 miles of road.
But there is still more work to be done. Each year school groups, community groups and individuals come together for this campaign. This year, the call for volunteers is being sounded again. If you would like to be a part of this campaign to make Fayetteville Beautiful, you can register to volunteer by calling Lynn Hughes at 910-433-1587 or by completing the volunteer form at www.fayettevillebeautiful.com or signing up at the Fayetteville Beautiful page on Facebook.
Once a list of volunteers is generated, groups will be assigned a specific section of road. The assignments help to focus the clean-up in the most critical areas, rather than groups randomly picking spots to clean. This also allows the trucks to come by and pick up the trash once it is collected.
On the day of the event, volunteers should report to the kick-off at the entrance to the Martin Luther King Expressway on Ramsey Street. There, volunteers will receive, gloves, vests and trash bags, as well as receive encouragement from local leaders and thanks for their participation.
Fayetteville Beautiful is an affi liate of Keep America Beautiful.
(Photo, top right); Bobby Hurst, chairman of Fayetteville Beautiful, encourages volunteers at last year's kick-off.