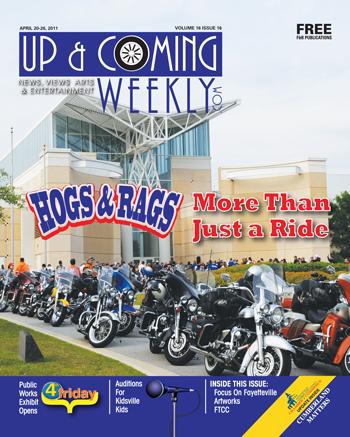 Hogs & Rags is the traditional Dogwood Festival rally for motorcycles and convertibles (including Jeeps). The riders gather every year, early in the morning, on the last Saturday in April. This year, instead of gathering at the Airborne and Special Operations Museum, they will gather at Cape Fear Harley Davidson on Sycamore Dairy Road. Registration starts at 8 a.m., followed by a southern country breakfast at 8:30 a.m.
Kickstands are up at 9:30 a.m., and the fun begins. It is a nice, easy, escorted drive from Fayetteville that will end at Landry's Seafood Restaurant at Broadway at the Beach in Myrtle Beach, S.C.
Not only is breakfast included, there will be several local dignitaries as well as members of the American Cancer Society serving up the hearty fare. According to Gardner Altman Jr., one of the founding members of the rally, attendees can look forward to seeing Sheriff Moose Butler, Senator Eric Mansfield, Cumberland County Commissioner Ed Melvin, Mayor Tony Chavonne, Senator Wesley Meredith and Judge Billy West among others at the early morning gathering. It's a great start to a great day and part of what Altman considers the magic of the event.
"It has grown more than we thought it would, but any time that you have good friends and good food, fun people will come," said Altman. "Food, friends and fun will bring people together. We've noticed that everyone really seems to enjoy it, and that is what we are looking for. It is really low key and having the police escort us is a big hit. People enjoy being able to ride from Fayetteville to Myrtle Beach with a police escort. They enjoy driving through the little country towns and the townsfolk waving at them."
Don't mistake it. Hogs & Rags isn't just another road rally, it's a whole lot more than a ride. It's a
chance to enjoy a ride to the beach; a chance to participate in one of the many Fayetteville Dogwood Festival-sanctioned events; a chance to make new friends, reconnect with old friends and enjoy the camaraderie of some wonderful, caring and high-spirited people. Most importantly though, it is a chance to change lives and better the community. This year, the proceeds from Hogs & Rags will go to the Shriners Hospital for Children, the American Cancer Society and Kidsville News! of Cumberland County's literary initiative.
"I think one of the most exciting things about this ride is the charities that we sponsor and support," said Hogs & Rags volunteer Steve Adam. "A lot of times we do these rides, and you are out there collecting for individuals who are fi ghting a battle, which is a great thing, but this is one of those events where you have a chance to get out there and raise a pretty signifi cant amount of money for some great causes."
The ride is a great value at $50 per entry and $30 for additional passengers. And, you get a big bang for your buck.
"I think a lot of people forget when they look at the cost of this. They think 'Oh man, Hogs & Rags is $50 per driver and $30 a passenger, and they start comparing t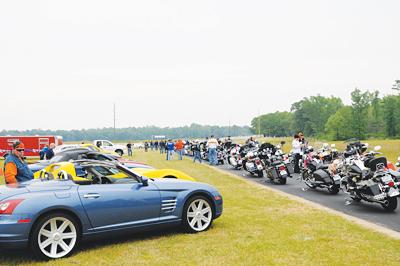 hat to a poker run that is $10 a hand, and you really can't compare the two," said Adam. "This is an all-day event. You get your meals, both breakfast and lunch and a T-shirt. Also, the first 100 people get a $10 raffl e ticket for the Cape Fear Hog raffle on May 7 at their open house. They should also consider what we give to the charities. We get nothing out of this event. Every bit of the proceeds go to the charities. It is a nice ride, and I think everyone really enjoys it."
The Shriners Hospital
Ernie Grooms is a Shriner of the Sudan Temple here in Fayetteville and has witnessed first hand the wonderful work that the Shriner's do for children. With 22 hospitals throughout the U.S., four of which are burn centers (the rest are orthopedic), there is plenty of goodness that gets spread around.
"The first child I ever saw when I went to Greenville, his mother was actually pulling him in a little red wagon. His arms and legs were stubs basically," said Grooms. "He had to have both legs amputated and they gave him prosthetics. He was actually out of Fort Bragg, that is where his father was stationed. We saw him grow up to be a real nice young man. I will never forget when he danced at one of our ceremonies with my wife. He is a real nice young man, and his father actually became a Shriner, too, because of what we did for his child."
The Shriners Hospitals for Children has a mission to:
Provide the highest quality care to children with neuromusculoskeletal conditions, burn injuries and other special healthcare needs within a compassionate, family-centered and collaborative care environment. Provide for the education of physicians and other healthcare professionals. Conduct research to discover new knowledge that improves the quality of care and quality of life of children and families.
For more information, visit www.shrinershq.org.
American Cancer Society
The American Cancer Society is the nationwide, community-based, voluntary health organization dedicated to eliminating cancer as a major health problem by preventing cancer, saving lives and diminishing suffering from cancer, through research, education, advocacy and service.
The American Cancer Society is a proponent of healthy living and avoiding behaviors that can play a part in causing cancer. They are there for cancer patients and their families from the moment of diagnosis, through the treatments, and when needed, through the healing and grieving process. For more information, visit www.cancer.org.
Kidsville News! of Cumberland County
Kidsville News! is Cumberland County's fun family newspaper and educational resource. It is provided free of charge to all elementary school age children in Cumberland and Hoke Counties, as well as teachers and parents. The goal of the publication is to help children develop reading skills, promote literacy and provide good quality character education.
Kidsville News! has been continuously published since 1998 and has been recognized and utilized by the North Carolina Department of Public Instruction for its measured progress program and hosts the Character Education Program in Cumberland County Schools plus several literacy, arts, writing and environmental educational programs.
For more information, visit www.kidsvillenews.com/cumberland.
Find out more about Hogs & Rags at www.hogsandrags.com.