Skype With Loved ones
We live in a transient world. Families are no longer living on the same farm or within walking distance of one another. They often live miles, states or even continents apart. Fortunately, we have technology that bridges the distance gap. Martha and I were talking with one of our clients recently about a gift his son gave him, a laptop computer with a camera and microphone. He was so excited about the fact that he can now have video con-ferences with his son and grandchildren in New York City. Either one would phone the other to see if they were available for a conference. Then, they all got in front of their computers and con-nected real-time with each other. He not only talked to his grandchildren, but was able to actu-ally see the expressions on their faces. It was the next best thing to being physically together. He even got dressed up for the occasion.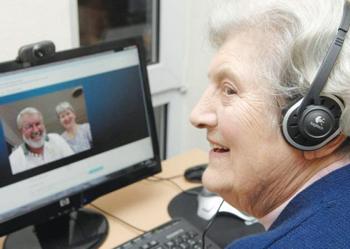 The business world of video conferencing has now moved into the homes of millions of people. The Pew Research Center's Internet and American Life Project tracked adults using online video technology. They found that 31 percent of people 50 years old and older are using this form of communication. Half of the 31 percent were 65 and older. Skype is a popular software application that allows subscribers to make free voice and video calls over the internet using Voice over Internet Protocol (VoIP) technology. The technology is so straightforward that many teenagers are very capable of helping their grandparents get started.
These real-time connections with family are a huge bonus. Grandparents can place the call and read books to their grandchildren at bedtime, share in the excitement of a report card, or view a newly completed art project. Imagine being able to show your grandchildren one of your special talents and not hav-ing to wait for a visit to show them. How meaningful for them and you to be able to share with each other on a regular basis.
Because of the ease in getting it set up, many people are applying it to a variety of situations. One example really impressed me. Nancy Crawford, a 100 year old resident of an assisted living facility in Charlotte, N.C., went to her doctor appointment with a geriatric care manager who brought along a laptop with a webcam, microphone, and Skype connection. Her grandson, six hours away, was able to see, hear and be involved with what was happening at the doctor's office and be engaged in the care his grandmother was receiving. He even noticed his grandmother was wearing the new wig he gave her as a birthday gift. Great use of technology
!Connecting with loved ones has never been easier. Think beyond cell phones and text mes-sages. Think beyond emails and downloaded photos. Using a home computer, internet appli-cation, webcam and microphone, you can con-nect with someone in real-time - you are looking right at them, and they at you, on your computer screen. You'll be surprised how enjoyable it is once you get started.