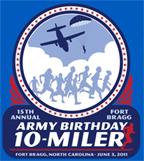 On June 14, the U.S. Army is celebrating its 236th birthday! Fort Bragg is celebrating a little earlier with the running of the 15th Annual Fort Bragg Army Birthday 10-Miler on June 3.
The race starts at 6:30 a.m. at Sports USA and finishes back at Sports USA after trekking through a "rolling and challenging" course on Fort Bragg. Participants are to report to the Sports USA/Hedrick Stadium area by 6 a.m. Following 6 a.m., area accessibility will be more difficult due to road closures. Pre-race instructions will be given at 6:20 a.m.
Seven water points and two water sprays will be located along the route. Five of those water points will provide Gatorade drink. Portable restroom facilities will also be available near each water point.
Pets, bicycles, headphones, and rollerblades will not be permitted on the course. Walkers may be required to use sidewalks in order to facilitate a more prompt reopening of streets.
Entries will be accepted through June 2 at 5 p.m. No registrations will be taken on the day of the race. On May 26 - 27 and May 31 - June 2, complete the entry form and submit it, in person, to Funk Physical Fitness Center located at Building C-2015 on Gruber Road near Longstreet Road. Entries will be accepted at Funk PFC, from 8:30 a.m. - 5 p.m. on these dates. On June 1, hours for registration will be extended until 7 p.m.
For more information, visit www.fortbraggmwr.com/sportsrec/tenmiler/raceinfo.htm.