Even in the best of times it can be a struggle to keep the arts alive and to foster an appreciation for the talent and vision of artists. Budgets being what they are, the government is making some hard choices about what it can and cannot support and unfortunately, there are some artistic programs on the chopping block. That means that it is up to individuals and businesses in the community to lend their support when and where they can. As a community paper, Up & Coming Weekly is proud to do our part to support two graduating Methodist University art students as they leave the relative safety of academia and head out into the world to make their fortunes in the art world.
On Thursday, June 16, join Up & Coming Weekly at our corporate offi ce at 208 Rowan St. as we present the works of Justin Gray and Camilo Gomez.Pam McEvoy director of university relations, met Gray and Gomez when she was coordinating their senior show at Methodist University's William F. Bethune Center for Visual Arts.
"I got to know them while they were having their show in our new gallery. We had their senior shows in the gallery and that was pretty cool. I think it is also unusual to have two males as our senior art majors," said McEvoy. "One is a former football player. That was kind of unique, too. He is a prolifi c painter. Camilo, he is from Columbia. He is very, very talented. We are always pushing globalization here at Methodist University and he was one of our international students."
McEvoy noted that neither artist is planning to go into teaching, but both young men intend to put their degrees to good use. In fac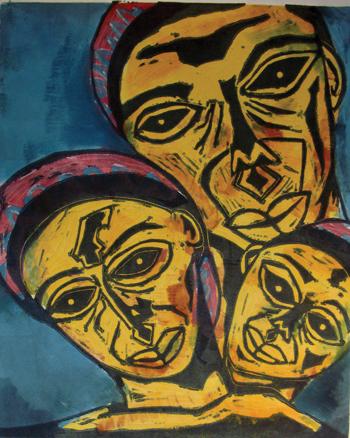 t, Gomez is already out in Los Angeles looking to start his artistic career in earnest.
A Charlotte, N.C., native, Gray's work is mainly self-expressionist with abstract qualities.
"I have skills in all the art fields — painting, sculpting, drawing and printmaking," said Gray. "Painting is what come naturally to me and it is what I love to do. I love to do landscapes. Sometimes I look at pictures and it gives me an idea of what I want to do. Vincent van Gogh and Pablo Picasso were my two most influential artists that inspire me to do my work."
Indeed, Grays work seems to follow the words of Van Gogh "Do not quench your inspiration and your imagination; do not become the slave of your model."
The show will feature landscapes, sculptures, portraits and abstract paintings by Gray.
"Most of my work is self expressionist in style," said Gray. "I have two portraits that include the president. One is of Barack Obama, Martin Luther King Jr. and Harriett Tubman. That title is "Social Fighters." That represents the three people who fought for their lives and for black history. I also have a portrait of Obama when he was inaugurated into offi ce."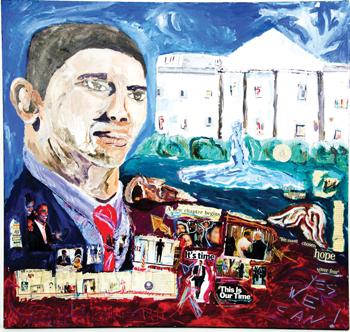 Gray also thinks that people will appreciate the differences in the styles and mediums that they will fi nd at Gallery 208 through out this exhibit.
"Our art represents our lives," said Gray. "Especially Camilo's life. His concentration was in printmaking. I would tell people to come expecting to see great pieces. They'll be impressed. I am very escited about this show. It is a great opportunity for us both."
McEvoy would agree. "With Up & Coming Weekly so deeply involved in the arts and so supportive of the art community it is a win for you and a win for us to have our student's art exposed in the community (at Gallery 208)."
An opening reception will be held from 5:30 – 7 p.m. at 208 Rowan St. The event is free and the public is encouraged to attend. Call 484-6200 for more information.
Photos: Top left; Family Violence by Camilo Gomez. Bottom right: Obama by Justin Gray.