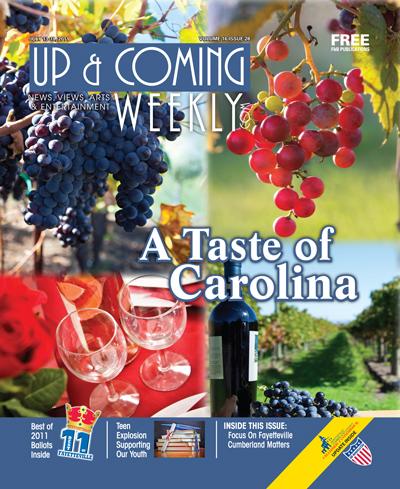 When you think American wines, most people think Napa Valley, but North Carolina vineyards are putting their mark on the American wine scene. And that's only fitting, as our state is the home of our nation's first cultivated grape: the scuppernong.
A cousin to the muscadine, the scuppernong was fi rst sighted by French explorer Giovanni de Verrazano in 1524. Sixty years later, Sir Walter Raleigh's explorers wrote, "The coast of North Carolina was so full of grapes that the very beating and surge of the sea overfl owed with them.
"It was on this voyage that Raleigh discovered the famed "mother vine" of the scuppernongs on Roanoke Island. Cuttings from the "mother vine" were transplanted along the coast and as far west as Fayetteville, and from their bounty a rich wine history was born in the Old North State.
From 1835 until the Civil War, more than 25 wineries were operating in North Carolina. The war disrupted the industry briefl y, but by the turn of the century, many vineyards were thriving and wine was a rich commodity for the state. The industry has had its ups and downs over the past 100 years, but today it is thriving with more than 100 wineries operating throughout the state
.Today, you can travel from the coast, through the Piedmont and up into the mountains and fi nd a taste of Carolina throughout your travels. Here is a sample of what you will fi nd on your journey:
Coastal Wineries
Silver Coast Winery, located just 15 minutes inland from Ocean Isle Beach, produces 10,000 cases of wine annually. Visitors may take 20-minute tours of the facility, which will take them from the grapevines to the wine cellars. The winery offers tastings in its elegant tasting room where the friendly staff will help you select wines, and a small shop provides a collection of enticing gifts. In addition, visitors can view and purchase original art work from various local artists.
The Silver Coast Winery is 9-years-old this month. Winemaker, Dana Keeler, who came from the Finger Lakes region of New York, is celebrating six years at the winery. The winery is the 22nd opened in the state and the first in Brunswick County. The Silver Coast Winery specializes in the native muscadine grape but also imports many grapes from the Blue Ridge Mountain area.
Hours of operation are Monday through Saturday 11 a.m. to 6 p.m. Friday until 7 p.m. and Sunday noon to 5 p.m. Combine a day at the beach with a wine tour and an art exhibition. For further information and directions, go to www.silvercoastwinery.com/winery.html.
Founded in 1976, Duplin Winery, located in Rose Hill, invites visitors to stroll through its Winemaking Museum to learn the history of the south's oldest and largest winery. The winery produces more than 1,000,000 gallons of wine, selecting grapes from more than 1,400 acres across four states. Although the muscadine is a winery favorite, Duplin Winery offers 12 traditional wines as well as blends and champagne.
For three generations, the Duplin Winery has remained family-owned and operated. The Duplin family decided in the early '70s to create a market for their grapes and started making wine. In-laws, grandchildren, aunts and uncles all pitched in stomping grapes and bottling wine. The rest is history. The family is devoted not just to its own winery, but to wine in general, and the industry itself and has grown in sales by more than 10 percent each year.
Free tours are available Monday through Saturday from 9 a.m. to 4 p.m., and free tastings are offered Monday through Saturday from 9 a.m. to 6 p.m. The winery is closed on Sundays.
For more information, visit the website at www.duplinwinery.com.
Just 25 miles from downtown Wilmington, the Bannerman Vineyard has been cultivating grapes since 1973. A family-owned business in the heart of Pender County, the vineyard spans 20 acres.
Featuring the "muscadine" grape, similar to a Concord grape, wine made from this fruit has unique nutritional characteristics. Due to its ingredient, "resvertrol," consumers have the benefi t of a healthy anti-oxidant which can lower cholesterol. Just think: drink wine and get healthy. The ingredient can be found in both the red and white muscadine wines.
The Bannerman family works long days at the vineyard during the "off season" (November to July). Hours for tasting then are Wednesday through Saturday from 12-4 p.m. or by appointment by calling 910-259-5474. During the season (August through November), the vineyard is open from Monday through Saturday 9 a.m. – 6 p.m. and on Sundays 12 - 6 p.m.
Piedmont Wineries
When you've finished your visit to the coastal wineries, head to the central part of the state where a vast array of wineries await you.A short jaunt down Highway 87, Lu-Mil Vineyards can be found just north of Elizabethtown in the small community of Dublin. The vineyard sits on the family farm of the late Lucille and Miller Taylor. Leaders in the agricultural industry, the family started the vineyard as a means of testing new machinery for the wine industry. Those tests spawned a successful vineyard, whose fi rst harvest occurred in 2005. That was the same year the vineyard's gift shop and tasting room were offi cially opened to the public.
Taylor Divine is a 100 percent semi-sweet mid-harvest white wine made with a blend of scuppernong and Carolos grapes. Bladen Blush is a late harvest blend of muscadine grapes that produce a full, sweet taste and mild, pleasant fi nish. Cape Owen Red is made of native muscadines. It is the sweetest of the sweet wines. Old Cumberland, which is a soft, dry white wine made from the early harvest of muscadines, was named in honor of Cumberland County. Harmony Hall is made from the magnolia grape and is cold fermented for a smooth, sweet and fruity white wine. The vineyard is open daily for free wine tasting, but you can also spend the night in one of the Vineyard Cabins.
For more information, visit the website at www.lumilvineyard.com.
As you travel east, you will encounter a number of other wineries that make up the Uwharrie Mountains Wine Trail. Located in the heart of the Piedmont, the Uwharrie Mountains Wine Trail will take you to a number of wineries all within a very short drive of each other.
Stony Mountain Vineyards has a simple mission: Make great tasting wines and create wonderful experiences and memories for its customers.
The vineyard is owned by the Furr family. Ken Furr is a 30-year veteran of the U.S. Marine Corps who retired with the rank of colonel. He is the winemaker and the general manager. His wife, Marie, is retired from civil service, and manages the tasting room and events. Their son, Devron, is a teacher, a member of the National Guard and the assistant winemaker.
Unlike many North Carolina vineyards, Stony Mountain offers a variety of traditional varietals including: Riesling, Pinot Grigio, Syrah, Merlot, Cabernet Sauvignon, Grenache and Syrah Sangiovese. They also offer four fruit wines: Very "Beary" Red, which is made from blackberries and a dry red wine; Blackberry, which is a semi-sweet red berry wine; Strawberry and Peach. They also offer a White and Red table wine made out of muscadine
.Winery tours and tastings are available by appointment. For more information, visit www.stonymountainvineyards.com.
Uwharrie Vineyards is operated by Chad Andrews. A gregarious host, Andrews is knowledgeable about all aspects of wine making and is quick to answer questions or explain the process to you.
Located just 25 minutes east of Charlotte, the vineyard is comprised of 50 acres of grape vines, and houses a 14,000 square foot facility that include a visitor'scenter, a formal banquet hall, a large tasting bar and a unique gift shop.
Andrews embraces the motto of the vineyard: He enjoys life to the fullest, takes many things casually, with the exception of his wine. When it comes to his wine, he is a perfectionist, carefully testing and balancing each and every vat of wine. Also something of a health nut, Andrews does not add any preservatives to his wine. "If you can't pronounce it, it shouldn't be in the wine," he said.
The vineyard offers four different varieties of wines: white wines, red wines, blush wines and port Style.
The Carlos is a full-bodied dry white wine. The Magnolia is a favorite of many visitors. It has the sweet taste that many in the South prefer in their wines. It has a rich fruit taste with a apple and pear finish. A recent offering is a Muscat, which has a slightly sweet, aromatic and sensual taste. It expresses cantaloupe and honeydew flavors over a citrus core structure.
The Noble and Noble Evening Pleasure are signature red wines. The Noble is full bodied with a berry and spice overtone. It is cold fermented, and ends dry. The Noble Evening Pleasure is soft and sweet with wild berry overtones.
Two of the most popular wines are the port-style wines: the Red Velvet and the Frost Velvet. The Red Velvet is a blend of the vineyards Cabernet Sauvignon and the Noble. It has a sweet beginning and a dry finish, which by in large comes with its alcohol content of 15.4 percent. This wine has been featured on Good Morning America, MTV and was selected as the ceremonial wine of the U.S. Army Special Forces and the U.S. Army John F. Kennedy Special Warfare Center and School.
The winery is open Tuesday through Friday from 10 a.m. to 6 p.m., Saturday from 9 a.m. to 6 p.m. and Sunday from noon to 5 p.m. While the winery is fl exible on tours, as a rule, tours start every hour on Saturday and Sunday, with tours on a request basis during the week. For more information, visit www.uwharrievineyards.com.
Mountain Vineyards
Once you leave the Piedmont, you can head to the mountains where a number of vineyards wait to entertain you.
A little more than a decade ago the 167-year-old Shore farm in Boonville grew tobacco as it had for many years. Realizing that he had to diversify or face being the last of six generations to farm the land, Neil Shore, chose a different crop. He enrolled in Surry Community College's viticulture program in the 1990s. A farmer since he was 16-years-old, Shore planted 15 acres in grapes in 2001, and
named the winery Sanders Ridge after one of his ancestors. "He learned that there's not a lot of difference between growing grapes and tobacco," his wife Cindy said. "His inspiration was to pass something along to his kids and still keep the farm viable."
Cindy manages the tasting room and works at the family's certifi ed organic vegetable farm. Neil's daughter Jennifer helps a few days each week.
Nine grapes are planted including Viognier, Chardonnay, Cabernet Franc, Cabernet Sauvignon and Merlot. Cindy believes they're the only North Carolina winery to plant Muscat Canelli, a cousin of Riesling. Their French-American hybrid Chambourcin is bottled as Sweet Kate, a floral delight named for another ancestor. Sanders Ridge is open daily (except Christmas, New Years and Easter) noon to 6 p.m. For more information, visit www.sandersridge.com.
Raffaldini Winery owners trace their roots to 14th century Mantua in the Lombardy region of Italy where their ancestors were farmers with a long history of growing their own grapes and making their own wine. They purchased the Yadkin Valley winery property in 2001 after surveying more than 60 sites. "This location is exceptional because it has some of the same characteristics and features as in central and southern Italy," said Thomas Salley, marketing director for Raffaldini.
The family planted more than 30 different grapes on 43 acres before settling on those that have proven to be successful. "We focus on Pinot Grigio, Vermentino, six varieties of Sangiovese, Montepulciano and Orange Moscato. This year we planted some Nero d'Avola," Salley said. They also grow Malbec and occasionally buy Cabernet Sauvignon, Merlot and Cabernet Franc from other local growers. The first vintage was bottled on site in 2003 and an early tasting room opened in 2004. During 2007, the family constructed a villa reminiscent of Italian family homes with an events room upstairs and a tasting room downstairs. Their members gather at the villa for private tastings and club events including the annual Italian Festival in September.
Raffaldini is open Mondays from 11a.m. to 5 p.m., Wednesday through Saturday 11a.m. to 5 p.m. and Sunday 1 to 5 p.m. Tours are Wednesday to Sunday 1-4 p.m. For more information, visit www.raffaldini.com.