Someone will finish in first place at the Run for the Red on Saturday, Aug. 6, but the real winner will be the Highlands Chapter of the American Red Cross. Billed as "the hottest race in the South," the event, which is in its fi fth year, is one of the relief organization's biggest fundraisers.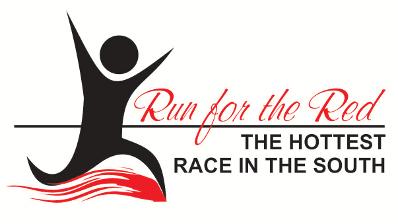 Last year's event included more than 500 runners and raised slightly more than $10,000, according to Victoria Raleigh, executive director of the chapter. This year the group hopes to see close to 700 participants and raise $15,000.
"All the funding stays here locally," Raleigh said. "We're not a government agency, so we rely on the support of the American public to perform our humanitarian mission."
The race has a new route this year, starting and ending in downtown's Festival Park, where the group will also hold a Be Red Cross Ready Day.
"It will provide an opportunity to ensure everyone has a fire plan, knows how to make a disaster kit, what to do in case of a power outage and other general preparedness information," said Raleigh. "We will have coloring books for the kids and our American Red Cross Blood Hound will be there as well as Miss Fayetteville 2011, Katie Mills."
In light of the recent tornadoes, and with hurricane season underway, Raleigh says no one can be too prepared. There will also be information available for people who want to become Red Cross volunteers.
"(Nationally) we're a 97 percent volunteer-based organization," Raleigh said. "Here locally, for every one paid staff we have about 35 volunteers who support our mission."
If helping out the Red Cross isn't enough motivation, the race will award cash prizes for the top three male and female runners in 5 and 10 kilometer runs, starting at $100 for third place in the 5K and going up to $250 for first place in the 10K. There is also a one-mile fun run that will loop around the park. All of the fun run participants will get a medal, as well as the top times in 14 age groups of the two races. For those not handy with the metric system, 10 kilometers is 6.2 miles, and the 5 kilometers is 3.1 miles.
The course is USA Track and Field Certifi ed, which means the route has been accurately measured and that runners' performances can be accepted as a record or be nationally ranked.
Unlike last year, when the event was scheduled on the same day as Airborne Day, Raleigh said she expects to see a lot of military runners.
"We're so pleased to have them back," she said. "Some units are choosing to run as a team. We're doing a competition to see which group and/or unit will have the most participants."
Groups don't have to be military, Raleigh said, citing examples of local businesses and school groups who have already registered.
The cost to register for the race is $35 for the 10K, $30 for the 5K, and $5 for the Fun Run. There are discounts for military and groups of 10 or more.
Registration and more information can be found online at http://www.highlandsarc.org. Runners are encouraged to register in advance.
The 10K race will start at 7 a.m., the 5K will start at 7:45 a.m., and the Fun Run begins at 8:30 a.m. On race day, packet pick up will start at 5:30 a.m., or runners can pick up their packets on Friday, Aug. 5 from 2 to 8 p.m. at the Highlands Chapter, 807 Carol St. The fi rst 750 race participants will also receive a free t-shirt.