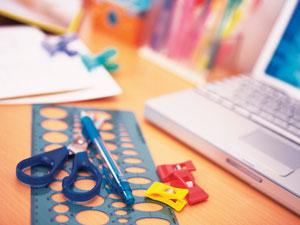 An estimated 56 million students will be enrolled in elementary, junior high andhigh schools across the nation this fall. While retailers eagerly embrace the back-toschoolseason, many parents cringe as the costs add up for school supplies, sportingequipment, electronics and new clothes.
Today's tough economy makes it challenging to invest in our children's educationand future, and purchasing school supplies can be especially expensive. Stretch yourfamily's back-to-school budget with these smart saving tips:
Assess Wants vs.Needs. Before youleave the house, makea list of items you'llneed and be realisticabout prioritizingneeds and wants. Doa complete inventoryof what supplies youalready have at home.Sure, it's fun to buyall new, but if you justbought a new set ofmarkers or a packageof folders last spring,you can probablyhold off a few monthsbefore restocking.
Remember, too, that prime shopping season is before school starts. Delayingnon-essential purchases on items such as clothing until after school is in session (suchas during or after the Labor Day holiday, when items are marked down) can net bigsavings.
Budget, Budget, Budget.Once your prioritized list is complete, determine whatyou can afford to spend on each category – school supplies, electronics, clothing andother. Use free online budgeting tools to help you stick to that budget. Comparisonshop, check out online deals and watch store circulars for sales. Subscribe to receiveemails, text or Twitter alerts from your favorite stores for special sales. Some storeseven reward shoppers who "check-in" through social sites with more discounts.
Many states, like North Carolina, also offer a tax-free holiday for back-to-schoolshopping. Our tax-free weekend was August 5-7, so if you didn't take advantage of it,you missed it til next year. Buying in bulk can save money, too. Look for multi-packs ofitems like scissors, pencils and markers.
Don't forget that the annual back-to-school shopping excursion can be a greatmoney management learning exercise for older kids. Share your budget with them, andhelp them make selections to keep your checkbook on target.
Check for Student Discounts. By having a student living in your home, you maybe eligible for savings and not even know it. Many manufacturers, especially softwarepublishers, offer education eligibility discounts, and some stores offer price breaks forstudents, too.
For example, check out Academic Superstore (www.academicsuperstore.com),an online store that works with leading brands to sell deeply discounted products. Thewebsite's catalog of more than 20,000 education-focused products includes schoolsupplies, full-version software titles and consumer electronics at prices up to 80 percentoff retail value. Some items are at such deep discounts that you will be asked to provideproof of academic eligibility – which for some products is as simple as providing an.edu domain email address or school ID.
Also, if you are military, be sure to ask if the store offers a military discount. Youjust may save 10 percent, or more.
Surf the Net for Deals.The Internet is a great place to fi nd bargains. And manyoffi ce supply and retail websites offer free shipping. Use online tools that let youcompare prices of multiple websites to fi nd the best deals. Don't forget to search foronline coupon codes that can help stretch your dollar.
You can also save money by checking out the many online auction and trade sites.Bid on larger bundles that include several items on your list. You can further savemoney by trading gently used clothing and supplies with other area families. Lookthrough the online forums of local freecycle and swap sites to fi nd "new to you" items.
With a little pre-planning and discipline, you can manage through the financialstress and focus instead on setting a positive tone to send your kids back into theclassroom.Photo courtesy of Getty Images. Source: Family Features.