There are more than 57,000 soldiers stationed at Fort Bragg, many of them with families in tow. Sure, a few choose to stay within the confines of the post, but the majority are in the community raising families, worshipping at local churches, serving on PTA boards, and supporting the arts and local businesses.
The sacrifices made by the service members and their families are not lost on the community. In fact, it has moved many to action. The organizations that rally around troops and their families are not only well-meaning, they are creative and thoughtful in how they go about meeting the needs of our nation's heroes.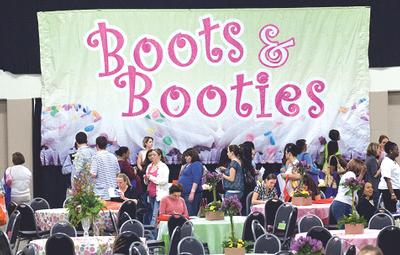 "We want soldiers and their families to know that no matter where they have been or what they have been through, there is a community here that loves and understands them," said Jennifer Lowe, corporate communications, City of Fayetteville. "Service members of every generation can come here, build a life and know that they will be accepted and appreciated. Because we have such a large military population, there is no shortage of people, businesses and facilities ready to meet the needs and support the interests of veterans and active duty service members. This understanding attitude is part of what makes Fayetteville the nation's first Military Sanctuary City."
You have only to look around to see the impact the military has on our community. On July 4, 2011, the North Carolina Veterans Park opened to a crowd of 3,000. With a 3,500 square foot Visitors Center and a chandelier made from 33,000 dog tags, the North Carolina Veterans Park was designed for refl ection and celebration.
With the thousands of military members who pass through Fayetteville Regional Airport each year, it just made sense for the USO to open a center there. Which is exactly what happened in November 2011. Renee Lane, USO-N.C. center director Fort Bragg and USO Fayetteville, said, "The service members are so happy to have access to a travel center before they head to all points across the globe. We have had nothing but positive comments."
The Army's Army was founded in 2008 and is made up of citizens and businesses who've pledged their moral, physical and spiritual support to those in the military. The group has 1,500 members and 50 businesses that take their role in "watching over those who watch over us" very seriously.
The Army's Army offers relocation support and looks for creative ways to support the military. The group has packed care packages for deployed soldiers; hosted Heroes Crusade, an athletic campaign that took place during Heroes Homecoming; and created a blog called Military Discounts where business partners offer and advertise special discounts to the military.
With the brisk operations tempo over the past decade, Fayetteville Cares was formed in 2007 to provide support to military personnel and their families during and after deployments.
The group has hosted the World's Largest Baby Shower to benefit military spouses, which offers love and support to 1,000 moms and moms-to-be. Fayetteville Cares routinely sends care packages to deployed military members, prepares the barracks for single soldiers prior to their return from deployment, and works with other military support organizations in the area to meet the needs of military members and their families.
Each May, Fayetteville spends an entire month honoring military service members and veterans with a 31 Day Salute. The event is a month-long celebration of performances, ceremonies, exhibits and activities designed to show the community's enthusiastic appreciation, respect and support for those who serve and have served in our armed forces.
It's one of the many ways Fayetteville reaches out to its military neighbors.
Photo: Fayetteville Cares' Boots & Booties Baby Shower is one of the many ways the community supports the military.