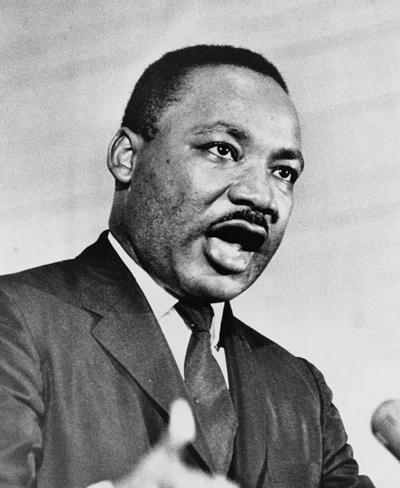 Martin Luther King Day is more than an opportunity to honor a great man. It is a chance to give back to the community and to build on the aspirations of Dr. King. It's a chance to consider where the world and community are headed and move to influence the future.
This year, there are several celebrations around Fayetteville that educate, motivate and celebrate in the name of Martin Luther King Jr.
On Thursday, Jan. 12, at Bronco Square at Fayetteville State University, the Martin Luther King Jr. March and Vigil begins at 5:30 p.m. The march proceeds to MLK Park where a vigil is scheduled to start at 5:45 p.m.
Hope Mills Branch Library celebrates with "I Have a Dream: Remembering Dr. Martin Luther King Jr." at the Hope Mills Meeting Room at the Hope Mills Branch Library on Friday, Jan. 13. The celebration begins at 10:30 a.m. and includes stories and crafts for children ages 3-5. Groups of 7 or more are encouraged to register by calling 425-8455.
On Saturday, Jan. 14, head downtown and enjoy the Martin Luther King Jr. Parade. It starts at the courthouse and goes to the train station. While you are downtown, take a few moments to check out the galleries, shops and restaurants. The parade starts at 11:30 a.m.
The Martin Luther King Jr. Prayer Breakfast and Day of Service kicks off at 7 a.m. at the Crown Exposition Center. Now in its 19th year, the prayer breakfast welcomes keynote speaker Bobby Henry, Sr., Publisher and CEO of Westside Gazette Newspaper. After the breakfast, participants are invited to A Day of Service. Churches, organizations, agencies and individuals commit to four hours of community service. For more information, contact Bishop Larry O. Wright, FCCMC President at 494-8274. Find out more about the Ministers Council and purchase tickets to the prayer breakfast at http://ministerscouncil.net.
If breakfast is out of the question, join the Fayetteville Martin Luther King Jr. Challenge Day of Service. Meet at 8:20 a.m. at the Center for Community Justice and Service Learning at 1047 Murchison Rd. and pitch in to make a difference. The event is free. Find out more by calling 672-2460.
At 7 p.m. at Seabrook Auditorium on the Fayetteville State University Campus, the FSU Concert Choir and community ensembles perform at 7 p.m. on Monday, Jan. 16.
This weekend is the perfect time to refl ect a little and learn a few things about local African American Heritage. The African American Heritage Trail chronicles the history, lives and experiences of African Americans who lived in the region. The Fayetteville CVB website www.visitfayettevillenc.com/culturalheritagetrails offers many several historical trails for visitors who would like to explore a little deeper into Fayetteville's history.