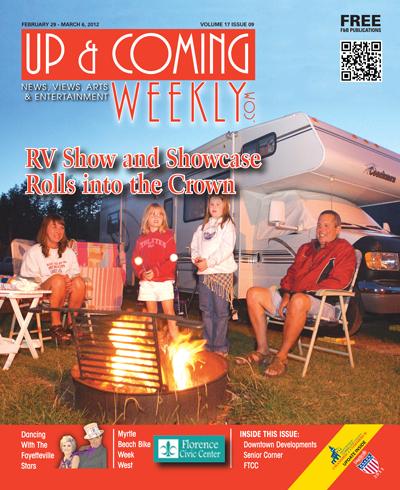 Does the idea of fighting crowds at the airport or standing in line at theme parks leave you cold? If so, you are not alone. In the United States, nearly one in 12 U.S. vehicle-owning households (about 7 million) now owns a recreational vehicle. That number is expected to grow by about 15 percent in the coming years.
Why? Rowland Bostock, the promoter for the Eastern North Carolina RV Show doesn't have all the answers to that question, but he does have some.
"The outdoor lifestyle is a very appealing lifestyle," said Bostock. "When you go to campgrounds, you find other like-minded people who are looking for quiet and relaxation (for the most part.) They are open and friendly and willing to lend a hand or advice."
Bostock said there is no better feeling than sitting quietly around a campfire at the end of a fun day and reflecting on the day and planning for the next.
"It's just very relaxing, and then you lay down in the comfort of your own bed with the sounds of crickets or a river putting you to sleep," he said. "It's just a very unique and different lifestyle."
Bostock said that the solitude isn't for everyone. Some RV owners use their trailers for getting into the mix of things and tailgating at Nascar races or at football games.
"They enjoy the excitement and camaraderie that goes along with those events," he said.
This is the seventh RV show in Fayetteville. Years ago there was another show, but they stopped coming and started concentrating on bigger venues. Two RV Sales owners came together with the idea of starting a local show. They enlisted Bostock, and other RV dealers from eastern North Carolina, and put the show together.
"All of these folks work really well together and have a little friendly competition," said Bostock.
Just as the dealers come back year after year, so do the attendees at the show.
"We see a lot of the same faces year after year," said Bostock.
Annually about 2,500 people come out for the show. That number dropped slightly over the past couple of years, because of the economy, but attendance has remained close to the 2,500 range.
"Our dealers all have had success at the show," he said.
This year there are nine RV dealers participating in the show, including Fayetteville dealer, Hawley's Camping Center. "We have a really good representa-tion from RV dealers, as well as RV parks," said Bostock.
Throughout the three days of the event, dealers will offer special sales on RVs. Vendors associated with the RV industry will be on hand to showcase products and prizes will be given out throughout the event.
Bostock said some folks come out to the show simply out of curiosity, while oth-ers have been a part of the RV family for years.
"Some people come just because it is something to do, while others come to trade in older RVs and others come who want to try out the lifestyle for the first time," explained Bostock.
He noted that the love of the outdoors beckons many people to the RV lifestyle.
"There are a lot of people who don't want to take the fly/drive vacation to busy spots," he said. "Many of them want to take quiet vacations and just enjoy being with their families in the great outdoors. So the idea of having an RV appeals to them."
Bostock said pet owners are also very intrigued with the idea of camping.
"A lot of people really love their pets and want to take them on vacation. It's really hard to find hotels that will allow you to do that, and some of the ones that do, well, you wouldn't want to stay in them," he said. "With the RV, the pet can come along with no problems."
Bostock said that many of the first-time buyers will go for something simple like a pop-up camper. But over time, they may upgrade their RVs a num-ber of times. He noted that RVs have come a long way from their early days. These days, the RVs are spacious and have everything from full bathrooms to well-equipped kitchens and entertainment centers. With a number of slide-outs on a camper, the RV can be as spacious and roomy as some people's homes.
"We have some people who come in and trade up every year, and others that come every three to five years," said Bostock. "What we see a lot in our older RV'ers is them trading down so they have a simpler set up and something that is easier to pull."
The Eastern North Carolina RV Show rolls into the Crown Agri-Expo Center on Friday, March 2 from noon-8:30 p.m. On Saturday, March 3, the show opens at 10 a.m. and runs through 8:30 p.m. The show closes on Sunday, March 4, with hours from 11 a.m. to 5 p.m.
Bostock said it's a great event for people whether they are experienced campers or
just thinking about getting into RVing. This year's show will include new exhibitor's from eastern North Carolina providing a wider selection of RVs. Speak with experi-enced sales professionals about features and benefits of owning an RV… then shop and compare for your best deal.
Tickets to the event are $7 for adults, $2 for children ages 7-12, with children under 7 admitted free. Friday is military appreciation night, with all military admitted at half price after 4 p.m. For more in-formation, visit www.encrv.com.
Photo: Many of the first-time RV buyers will go for something simple like a pop-up camper. But over time, they may upgrade their RVs a number of times.