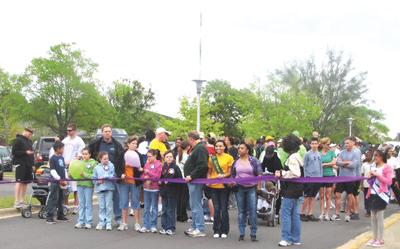 On Saturday, April 14, the March of Dimes hosts its third annual March for Babies event at Methodist University. This 2.5K walk is an exciting way for everyone in the community to get involved and help a great cause. The students of MU have made this a part of their yearly curriculum in an effort to help the MoD meet its goal of $100,000. You can help them meet this goal by being a sponsor, creating a family or corporate team or being an individual walker in the event.
Hilton Hutchens Jr., of Hutchens, Senter and Britton Law Firm, is serving as the walk chairman this year. The walk is scheduled to begin at 10 a.m. following registration at 9 a.m. and the opening ceremony at 9:45 a.m.
The work of the MoD is made possible by millions of people and thousands of companies volunteering to help in the mission of the MoD. "Our mission is to improve the health of babies by preventing birth defects, premature birth and infant mortality," says Catherine Heindselman, director of the Cape Fear Division of the MoD.
There is a headquarters located in Fayetteville, N.C., and from here they service eight counties in the region. In 1970, the first ever charity walk was founded and now the organization hosts three signature events to bring our community together for one walk, one voice and one day to help babies be born healthy. Each year, the MoD chapter awards grants to external organizations across the state in order to address unmet maternal and infant health needs. These community grants are one way that the MoD pursues it mission.
Nearly 1,000 people are expected to walk in this year's event and there will be activities for the kids and food and fun for the whole family. March for Babies is the largest fundraiser hosted by the MoD so they would like everyone to come out and be a part of something great. "We are so excited to continue our relationship with MU," Heindselman stated. MU students coordinate the walk by handling the logistics, the route and all necessary equipment needed to make this a safe and fun event.
The students have created two sources to promote this event and for anyone to register early. You can also become a volunteer for the event if you visit the site on Facebook at MU March of Dimes Team or on Twitter @ MUMOD. The University is eagerly anticipating this wonderful event and preparing for the year to come in which the school newly inaugurated President Dr. Hancock will be the Fayetteville Regional March for Babies Chairman. This year's Ambassador Family includes twins Brendon and Cameron Cooper. The twins were born at 23 weeks at the weight of 1.61 lbs and 1.75 lbs respectively. They were born at Cape Fear Valley Hospital's Neonatal Unit to parents, Lauren and Beverly Cooper.
Find out more about the March of Dimes and its mission at www.marchforbabies.org.
Photo: Walkers prepare for the 2011 March for Babies walk at Methodist University.