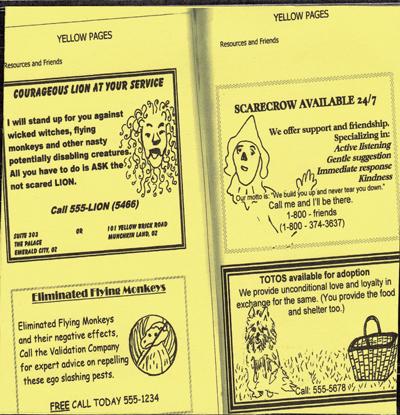 The Journey From Oz is a heartwarming message of hope and encouragement for those facing hard challenges in life.
"Whether you are facing the worst challenges or realize you aren't where you want to be in life, this book offers support to help readers take control of life one helping step at a time." author Sharon Yates said
Sharon Yates has more than 30 years of experience in the mental-health profession. As the public relations director for the Cumberland County Mental Health Center, Yates coordinates events and disseminates information on mental health to educate and help those facing life's most difficult struggles.
Yates has combined her years of experience into her new book, The Journey From Oz: Seven Steps for Finding Your Way Back from Places You Never Intended To Be.
The book uses Dorothy and the Wizard of Oz story to illustrate the fact that everyone at some point in life finds themselves somewhere they didn't intend to be. Dorothy landed in Oz, a strange place with strange people and no idea how to get back home. People suffering mental illness or a rough patch in life can relate to Dorothy's feeling of being lost and desperate. However, throughout Dorothy's journey she takes the steps necessary to find her way home and be happy again. The Journey From Oz is written to help the readers take those steps one day at a time.
Yates shares her personal stories as examples of making these daily steps. According to Yates, one story is about a friend who celebrated the fact that she could get out of bed and put on clean underwear in the mornings. This story is memorable not because of the humor but it is an example of the small victories that make a difference when times are tough.
The book is written in short paragraph passages. Yates said she wanted to make it easy to absorb because she knows how hard it is to concentrate during times of crisis, such as in an ICU waiting room.
"But at the same time, I would see how much a greeting card would mean to someone going through a tough time," said Yates.
"People that know me, will recognize the statements from the books because they are things I say or write to friends and family when they need encouragement. I hope readers feel like I'm a friend speaking with them as they read the book. Sometimes just seeing things in print can validate emotions and bring home the 'a-ha moment,'" Yates said.
The unique illustrations help to bring that "a-ha moment" as well. Rose-Ann San Martino has been involved in art and mental health for many years. As an artist she said she was grateful for the opportunity to collaborate on a project that inspired her."
I just hope these book gets into the hands of people that can benefit from it. I'm retiring at the end of the year and this is my way of sharing what I've learned and giving back," said Yates.
The Journey From Oz can be purchased at Amazon.com and for those with a membership with Kindle, the book can be downloaded and shared for free. Join Yates at the 2012 Local Author's Showcase at the Headquarters Library on June 22 at 7 p.m. for a book signing.