We often read reviews of movies, books, music that is from someone else's point of view. Well this week in The Buzz, we're going to read what Christian artists have to say about their a few of their new songs … in their own words.
Chris August shares — "Center Of It" "
My song 'Center Of It' speaks about how God is there from the beginning to the end. I know at times it's easy to feel alone at your weakest moments, but it's good to remember that Christ is always there. No matter the situation, good or bad, he never leaves us alone. Romans 5:8 says that in the midst of our sin, Chris died for us. This shows us that God wants us to come as we are. Whether you are rising or falling he wants to be there with you in the CENTER OF IT."
Citizen Way's Ben Calhoun — "Should've Been Me"
"'Should've Been Me' is one of those songs that was already written before I wrote it. I was leading worship at a summer camp and the leader asked the students to sum up what they learned that week. One of the students said 'Well, basically I learned that..., it should've been me.' A melody and lyrics hit me like a freight train and I sang this song for everyone 20 minutes later. It's a reminder of what the Lord has done, and what he is doing in all of us whether we recognize it or not. It still humbles me and continues to change my heart."
Kari Jobe — "Steady My Heart"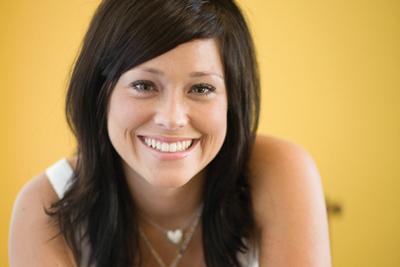 "Psalm 55:22 says 'Cast your burden on the Lord and he will sustain you; he will never allow the righteous to be moved.' The little season there, writing 'Steady My Heart' was one of those moments of life where I had a lot of questions and was asking God why some of the things have to be hard in our lives. I had found out some news that was pretty shaking for me. I was finding myself praying a lot, 'God, hold my heart because this is so hard. I don't know how to really make it through this.' And he's so faithful to do that. So whatever you're walking through, whatever this season looks like for you — I pray that you would just know that he's near to you. That he will sustain you and give you strength. And that he'll steady your heart." Some thoughts on a few new Christian songs from the artists who wrote them.
Photo: Kari Jobe.