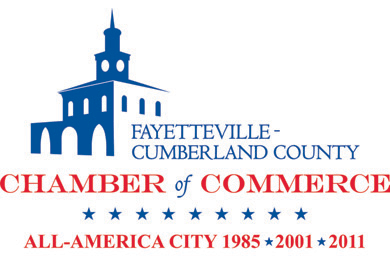 Four years ago I was asked to take the helm of an organization then known as the Cumberland County Business Council. In doing so, I was given a charge — solidify the organization's economic-development role and return it to profi tability. In July 2008, the CCBC became known as the Fayetteville-Cumberland County Chamber of Commerce. With that name change came a renewed focus on leveraging the build-up that came with BRAC and the arrival of the U.S. Forces Command and the U.S. Army Reserve Command. Our community has fared well despite the struggles of our national economy. Currently, the chamber is in its third consecutive year of profi tability. Our financial struggles were plenty, and the challenge of cutting expenses a mighty task. Thanks to the hard work and dedication of staff and volunteer leadership alike, we're rebuilding our reserves and have stopped spending money anywhere but where necessary.
Our work won't stop there. Last year, on the heels of BRAC completion, we engaged the nationally renowned firm of Garner Economics to conduct a comprehensive review of our economic-development strategy, our organizational structure and many other attributes that make up our unified chamber/economic development brand. Thanks to an engaged board and a thoughtful vision, our economic-development effort has become its own autonomous entity, surrounded by a well-trained, experienced, professional development staff and — for the first time in years — a dedicated board.
We learned a lot from the Garner Report. We learned that we can't be all things to all people. We came to understand that we can do better. We confirmed that there's a bigger role for the chamber than solely being the community's "industry recruiter."
We had not served our membership as well as we we could have, as our focus had been on shoring up finances and building relationships with local government. We sold value-added benefit as the primary value of membership, rather than serving our members by being their collective voice on business-related legislative issues.
We also learned about perception, finding that a surprising number of people were confused about the chamber and its relationship with local government. Some thought that, because the city and county funded the economic-development effort, they were funding the chamber and its operations. Government does not fund the Chamber of Commerce. Government funds the marketing of our community and the economic-development effort that strives to retain the jobs we already have and attract new jobs and investment to the area. In reality, the chamber's financial woes were brought by the organization subsidizing economic development, and overspending revenue caused by shuttering the former Fayetteville Area Economic Development Corporation and the stream of private revenue it contributed to the economic-development effort.
Your chamber is not an arm of local government. We are not a franchise of the U.S. Chamber or the North Carolina Chamber. We are as unique and local as our community itself, and we're driven by the leadership of our investors. The chamber's name has suffered because of attacks on the economic-development effort. We must rebuild both brands.
So where are we today? We are poised to emerge as the region's chief business advocacy organization, and will stand tall on regulatory issues that impede the area's ability to grow, add jobs, investment and create a higher quality of life. We're stepping into the corner of businesses who are fighting the daily battle to make payroll, deal with government bureaucracy and understand complex, burdensome regulations.
In addition, your chamber will strengthen our foundation as a champion for small business. Coming will be new and improved management-assistance programs and seminars, an academy to assist those interested in serving in public offi ce and countless other programs all deisnged to promote small-business development, survival and growth. Further, we will expand our current offerings, including exclusive, member-only discounts; a cost-saving health insurance program; expanded networking opportunities to connect people and businesses.
Among the discussions currently taking place is the creation of a business incubator to help strengthen emerging businesses by sharing overhead costs, support and expertise. We are also identifying opportunities to better engage our members to ensure we're meeting their expectations. We understand that small businesses have limited resources and are often left weighing the value of membership versus increasing fuel prices for their delivery vehicle. We get it. As a wise man recently told me, when times are tough, small businesses need their chamber more than ever before. We're stepping up to the plate. Expect great things.