Question: Boil 4,000 pounds of spaghetti, add 800 gallons of sauce, plus an assortment of tantalizing sweets and pastries and what do you get?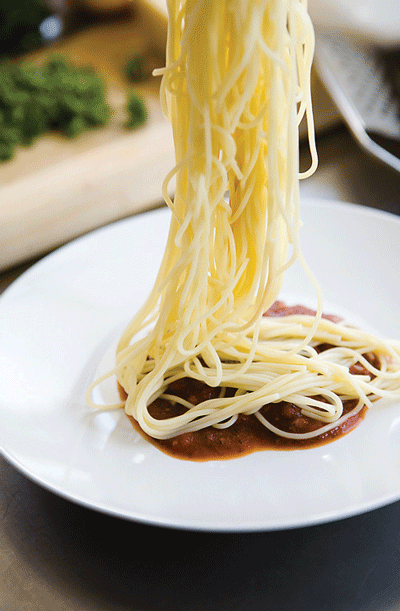 Answer: The World's Largest Spaghetti Dinner and Greek Pastry Sale.
On Nov. 14, the Saints Constantine and Helen Greek Orthodox Church will host its annual spaghetti and pastry sale. The event runs from 10 a.m. – 8 p.m. The take-out meal will be served at Saints Constantine and Helen Greek Orthodox Church Hellenic Center located at 614 Oakridge Ave.
"The dinner was started more than 50 years ago by my father-in-law and has grown from serving 400 dinners to more than 10,000," said Tony Kotsopoulos, event coordinator. "It was designed to raise funds for the church and now supports two local charities as well. I have been coordinating the event for the past 23 years and it has become a labor of love. It can be a logistical nightmare but it uplifts my spirit."
In order to prepare such a meal, volunteers engage in a choreographed exercise involving preparation and serving.
"There are more than 100 volunteers from the Greek Orthodox community who participate in this labor of love as well," Kotsopolos stated. "There have been people who have been participating in this event for as long as I have been coordinating it. I enjoy watching the constant flow of traffic throughout the day and seeing people come from all over Fayetteville and surrounding communities. It's more than the spaghetti they come for. I think it's about the sense of camaraderie and knowing the monies are going to causes that benefit the community as well," said Kotsopolos.
The spaghetti meal costs $6.50 and is carry-out only. In addition to the fi ne pasta and sauce, the church auxiliary will have sweets and desserts complementing this fantastic feast. The pastries are available at an additional cost. Arrive earlier in the day, as the pastries are sought-after items.
As part owner of Luigi's restaurant on 528 N. McPherson Church Rd., Kotsopolos is no stranger to hosting large dinner parties. Once a year however, he and the dedicated volunteers pull out all the stops to provide the public with a meal not soon forgotten.
"This event helps keep my work ethic in check and is a way of saying thank you to the always supportive Fayetteville community," he added.
For further information please contact the Saints Constantine & Helen Greek Orthodox Church at 910-484-2010 or visit their website at www.stsch.nc.goarch.org.
Photo: An annual event, The World's Largest Spaghetti Dinner and Greek Pastry Sale is a Fayetteville tradition.