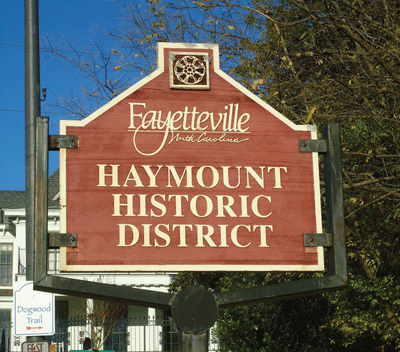 The Haymount area of Fayetteville is has a lot going for it — eateries, shops, churches, a theater and plenty of neighborhoods with tree-lined street all contribute to the charm and personality of Haymount. Named for John Hay, an Irish-born lawyer who built his home on the corner of Hillside and Hay Streets, the area was originally named "Hay Mount." This later became Haymount and later still, the spelling Haymont came into play.
Officially, the boundaries of Haymount are from the foot of the hill up Hay Street to Fountainhead Lane, all of Hale Street, all of Hillside Avenue, Brandts Lane and part of Athens Avenue. "This area is a nationally registered and local historic district," said Fayetteville Historic Properties Manager Bruce Daws. "It was established because of the cluster of homes in that area that represent Federal-style architecture that was popular through the mid 1820s as well as some of the other architecture of the time."
Officially or not, just a bit further up the hill are establishments that are considered part of the Haymount district by the people who live, shop, worship, eat and play there. These establishments are as much a part of the phsyche of this town as other distinctive areas like downtown, Skibo Road and the Cape Fear River Trail.
The Haymont Grill has fed generations of Fayetteville families. On any given morning the dining room is fi lled with businessmen and women preparing for the day over a cup of coffee, moms with kids in tow and groups of friends young and old. Since 1946 Fayetteville has come to the Haymont grill for the food, but more importantly for the family atmosphere and welcoming service.
Across the street from the Haymont Grill are shops offering a variety of goods and services. All Things by Hand has been in business for just more than a year. The shop specializes in jewelry-making supplies including beads and stones and beautiful yarns from companies like Cascade, Fibre Compnay and Berroco. Open table nights and classes in everything from knitting to beading to metal clay, enameling, metal casting and lampworking attract not only shoppers but students and artists. In their short tenure in Haymount, owners Lisa Bellamy and Kay Bowles have made the store an important part of the Fayetteville creative community.
"Our open table nights on Tuesday and Friday nights offer an opportunity for a large group of women to come together for great conversation, sharing of ideas and a time to work on individual projects with lots of moral support," said Bellamy.
Visit them at www.allthingsbyhand.com or on Facebook to fi nd out more.Just a few doors down, in the same shopping center, Robin Kelly owns Lisa's Custom Framing. The business was established in 1982, and Kelly has owned the shop for the past five years. It was the sense of community that drew her to the Haymount area.
"I grew up in Haymount and cherish the memories from my childhood," said Kelly. "Doing business in Haymount is like coming home again. I just love it."
Customers at Lisa's Framing have access to hundreds and hundreds of beautiful mouldings and the benefi t of more than 15 years of experience in master framer Carolyn Culbreth. The works of local artists and an assortment of small but unique and interesting gifts are also available in the shop. Find out more about this unique business at lisascustomframing.com
.Filled with young and busy families, the greater Haymount area turns to Kinder Care Learning Center when it comes to taking care of life's most precious treasures. Established in 1980, Kindercare offers unique and expertly designed early education programs for infants as young as six weeks and school age children up to age 12.
"Kinder Care provides a balanced approach to learning, giving you the peace-of-mind that your child will have fun as he or she develops socially, emotionally, physically and intellectually," said Director Kimberly Purdy. For more information about KinderCare, call 483-3582.