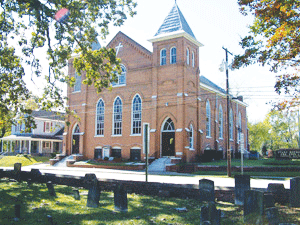 Step aboard the bus at the Fayetteville Area Transportation and Local History Museum and immerse yourself in the rich history and cultural diversity for which Fayetteville is known as you tour the downtown area and learn of the signifi cant contributions of African Americans to our community.
Led by Professor Charles Anderson of Methodist University, the African-American Heritage Tour on Thursday, Feb. 21, leaves the museum at 325 Franklin St. in Downtown at 9 a.m. for a three-hour trip that visits historic sites dating from Revolutionary times to the 20th century.
"One of the things that is great about these tours," said Museum Specialist Heidi Bleazey, "is that they bring together a collection of the Fayetteville public and take them on this eye-opening look at the Downtown landscape. They take another look at the buildings they pass by day-in-and-day-out as they're roaming around Downtown Fayetteville and see it in a new light. It's fun and exciting. Professor Anderson is a wonderful tour guide and has a knack of bringing information and making it digestible and fun and interesting to a wide range of audiences."
The tour will visit a number of sites in the Downtown area, including cemeteries, churches and the outsides of historic homes.
"We'll go to Brookside Cemetery," Bleazey said, "where a number of Fayetteville's prominent and famous citizens are buried. Some of the sites we are physically unable to go into, such as the home of the Chesnutt sisters. Anne Chesnutt is one of the sisters after whom a local middle school is named. Her brother Charles Chesnutt was the well-known African-American author. We'll go by that home as well as the home of E. E. Smith to take a look at the outside. One of the things that last year's tour really fostered was a lot of interest in E. E. Smith's home in terms of renovation. It inspired a group that were on the tour to try and push toward getting a working group to the E. E. Smith home to fi x it up."
While participants will not be able tour the inside of the homes, other sites will encourage a little exploration.
"We will actually be able to go inside the Evans Metropolitan A.M.E. Zion Church and see the grave of Henry Evans, as well as Saint Joseph's Episcopal Church, which has a wonderful Tiffany stained-glass window," said Bleazey. "There are some very historic churches in our community. A historically black church, First Baptist Church, was located on the site where the Transportation Museum is currently.
"In keeping with that Downtown landscape, we'll be stopping at Cool Springs Street at the Fayetteville Independent Light Infantry (F.I.L.I.) Parade Ground to visit the grave of Isaac Hammond, a Revolutionary War soldier and fi fer for the F.I.L.I. who is buried there. Another key site that we'll go into is the Market House to see a permanent exhibit on the history of the State House and Market House. We'll see some very old maps and information panels that trace the history of that site from 1788 up through the 20th century."
Bleazey noted that African-American businesses also contributed much to the Downtown community.
"As we drive through the Downtown area, all the principal streets in the area that radiate off of the Market House had African-American businesses within them, Gillespie Street being a good example, so we'll be mentioning some of the prominent businesses that were there as we drive around. We'll be going to Fayetteville State University to see the gates. It's going to be the most fun history lesson you have ever had!
"We actually have a couple of tours that generate a waiting list, so we do another tour. Fayetteville is certainly interested in history and African-American heritage, and we'll offer this tour as many times as the public wishes to see these sites and know all about them. There is just such a rich history of African Americans in our community. This tour, focused on the downtown area geographically, will help tell both a local and broader story of African Americans in our city."
Space is limited for the event, which costs $3 per person payable at the beginning of the tour. Preregistration is required, and participants are encouraged to wear comfortable shoes for moderate walking.
For more information or to preregister, please call (910) 433-1457, 433-1458 or 433-1944.
Photo: Evans Metropolitan AME Zion Church.