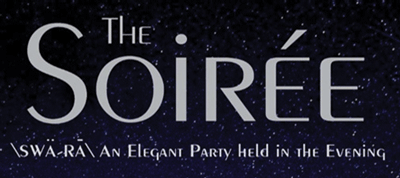 Children are the future leaders of the community, and because of this, educating them is a community effort. Many brilliant and ultimately successful people have come from low-income families, but it is often only because of the motivation from a member in their community that they've risen to positions of infl uence and power. Every child deserves a chance to learn and to achieve their dreams — regardless of their home situation or socio economic status. Since 1908, The Partnership for Children has been supporting just that by helping children from low-income backgrounds succeed in school.
In previous years the organization held a fundraiser in conjunction with the Academy Awards. This year they are trying something new — a Soirée.
"The meaning of soirée is an elegant party that is held in the evening. We created the soirée and each year the theme is a little different, this year we are going to kick this off with a Parisian theme: A Night in Paris. We know people will feel the French flare," said Partnership for Children Communications and Development Administrator Tina Newcomb.
Tickets for the Soirée are $100 each. This pays for a beautiful dinner, a lovely night of entertainment, and great programs that reach the local community.
"The funds are for two outreach programs that we have. We are funding The Partnerships Kidstuff Activity at the Dogwood Festival as well as working with government and military affairs. This engages elected and military leaders to make sure civilian and military families and children get the support they need. We've received much engagement from legislators and local government, too." Newcomb explains.
For entertainment, there will be a Dueling Piano Show. The entertainers will take song requests for a donation of $5. The pianists compete to see which one can play the most requests. To further support the cause and for a chance to win fabulous prizes, raffle tickets will be sold for $10 and $20. Prizes will feature wonderful travel packages, local dining, a trip for four to Disney and a trip for two to Paris. The event organizers will accept payments in cash, debit and credit cards the night of the event. And for all the sports fans, there will also be a viewing room to check on the score of the ACC Duke versus Carolina game.
The Soirée will be held at the Embassy Suites, with a start time of 6:30 p.m. Attire is semiformal. Cocktails will be served from 6:30 to 7:30 p.m., every guest will receive a drink ticket, but there will also be a cash bar. Starting at 7:30 p.m., dinner will be served, and guests will have assigned seats for the dinner. The Embassy Suites is located at 4760 Lake Valley Dr., Fayetteville.
Tickets are $100. To purchase them, stop by The Partnership For Children or go to website, www.ccpfc.org, which is a purchase-secure site. Sponsorship packages are still available. For more information, contact Debbie Holland at dholland@ccpfc.org or via telephone at 910-867-9700.