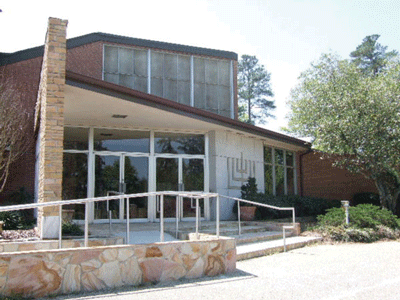 Sunset on March 26 began the weeklong celebration of Passover, one of the holiest times in the Jewish tradition. Fayetteville is rich with the contributions and sacrifi ces of the Jewish community, and in celebration of that, the Fayetteville Area Transportation and Local History Museum is hosting an exhibition of Jewish history running from March 15 through early 2014.
The presence of a Jewish community in Fayetteville coincides with the founding of the county of Cumberland. In fact, Fayetteville was North Carolina's second largest town in the 1820s. After a devastating fi re in 1831, the town emerged from the ashes and was rebuilt. Judah P. Benjamin, who gained fame as a Confederate leader serving as Secretary of State and War in the Cabinet of Jefferson Davis, lived in Fayetteville from 1815 through 1822. While there was a Jewish presence in Fayetteville early on, numbers remained modest. Despite that, in the early 1900s, Jews would contribute immeasurably to the city's economic growth.
The first "skyscraper" in Fayetteville was built by the Stein brothers. Another department store was established by Hyman Fleishman and these businesses became anchors of Fayetteville's growing economy. In 1910, Jewish families formed Beth Israel. To that point, they had been worshipping in homes for religious services. They met for years at the McKeithan Building on Market Square as well as the Stein Bridge Building. Desiring a more permanent place of worship, Beth Israel's synagogue was completed in 1922.
Bruce Daws, director of the museum, shared the importance of the exhibit. "The Jewish population has been a cornerstone in the growth of Fayetteville. This exhibit looks at two primary periods in history primarily, events occurring from Fayetteville's inception and contributions from the mid-20th century."
With the advent of World War II, Fayetteville grew exponentially and the Jewish population was extremely supportive of the military. The Stein brothers offered the top fl oor of their building as an Officer's Club. The Jewish community was also active in the USO and adopted soldiers with the aim of providing fellowship, a place to worship and some down home kosher food. There were Jewish military members from Fayetteville who paid the ultimate price and the exhibit is one way of honoring their service.
The museum is located at 325 Franklin Street in downtown Fayetteville. Hours of operation are Tuesday- Saturday from 10 a.m. through 4 p.m. For more information please call 910- 433-1457or visit the museum website at www.fcpr.us/transportation_museum.
Photo: Beth Israel, Fayetteville