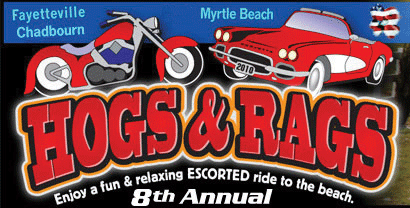 If you've never attended the Hogs & Rags Rally that happens each spring, this is a great year to join in the fun. This is the eighth year that the event has been a part of the Dogwood Festival festivities and it's a fun way to make a difference by doing something good.
This day-long adventure involves a ride to Myrtle Beach, with stops along the way and at the end fellowship and refreshments. Hogs & Rags is scheduled for Saturday, April 27, and like in years past, the day will surely be a good time. The fact that the event raises funds for several good causes is a bonus. If ever there was a justifi cation for spending a day out in the sunshine, it is knowing that it is to support Shriner's Hospitals for Children, the American Cancer Society and Kidsville News!
Don't let the name confuse you. Hogs and Rags is for all makes and models of motorcycles, trikes, muscle cars and street rods.
"One thing we want to be clear about is that even though the name of the event is Hogs and Rags and hogs usually represent Harley-Davidsons and and rags usually means convertible cars — and that is how the event started — we want all kinds of motorcycles and all kinds of cars to participate," said event spokesperson Wendy Rogers. "We don't want the name to mislead people, this is a great time, it supports wonderful causes and we want everyone to know they are welcome."
Local authorities from each county escort the hundreds of participants along the way. It's been said that it is better to see the police lights in front of you than behind you, but on a serious note, the event organizers take safety seriously and do everything they can to make sure each and every rider is not only safe but has a good time, too. There is a quick talk about safety and riding in large groups before the ride starts, so if you are new to travelling in large groups, this would be a great fi rst ride.
Registration starts at 7:30 a.m. and runs through 9 a.m. at the Airborne & Special Operations Museum. Kickstands up at 9 a.m. as the caravan departs for Rocking A Ranch in White Oak, N.C. At the ranch, riders will be treated to a full country breakfast. At 10:45 a.m., it's back on the road to Chadbourn for a short break and water stop. The ride continues on from Chadbourn to Landry's Seafood at Myrtle Beach. Lunch will be served at Landry's at 1:15 pm., where there will be entertainment and a reverse raffl e, too.
The event officially ends after lunch, but there is plenty to do at Myrtle Beach, and a big part of the day is left to enjoy the local attractions.
It costs $50 per entry and $30 per each additional rider. Of course, donations are always welcome and are tax deductible. The registration fee covers a T-shirt, hot breakfast at the Rockin' A Ranch, a police escort to Myrtle Beach and lunch at Landry's.
While the ride itself is a great reason to come out, the charities that are funded by the Hogs & Rags Rally proceeds benefi t greatly from this event. Since its inception, the organization has donated more than $90,000 to charities. Kidsville News!, The American Cancer Society and the Shriner's Hospitals for Children all work to make the world a better place.
Find out more about Hogs and Rags at www.hogsandrags.com.