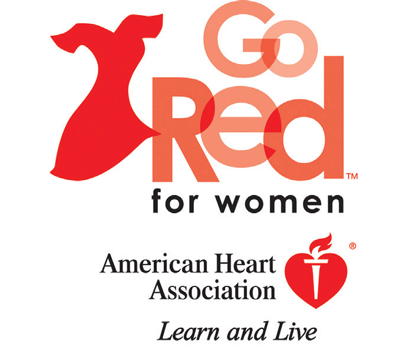 In literature, in art and in life the heart is the center of the body. Without it nothing is possible, so it only makes sense that we should protect it. Ironically, heart disease is the leading cause of death in women in the United States; often times it is one of the most preventable causes of death, yet it claims more lives of women than any kind of cancer. In order to stop this trend, the American Heart Association has created a movement geared towards helping and teaching women to take care of their hearts: Go Red for Women.
The key to battling any disease is knowledge. By knowing the risk factors people can mitigate their risk factors. This can be especially important in an illness such as heart disease, that research shows lifestyle is often a large contributing factor. Diet, exercise, and family history can all add to the risks of having heart trouble, but knowing is half the battle and that is what the National Heart Association is promoting through the Go Red for Women events.
Alisa Debnam, a community volunteer that is very involved with the Go Red for Women events says that when people come to a Go Red for Women event they should expect, "to learn and impact women. We will talk about the change in awareness and improvement in the education for women's heart health. Most women don't know about heart disease and we want to get the message out. People need to know the signs of a heart attack. They happen to people daily, and get ignored. People think it is the flu or exhaustion. People need to know the signs and get help to take care of their health."
"I remember in 2003 that I attended a Go Red for Women event in Raleigh and it was huge. As I was listening to the medical expert, I began to wonder why we didn't have anything like this in Cumberland county," Debnam recalled. As if rising to the call, many women in Fayetteville have decided to embrace the growing movement in heart health. In order to spread awareness and passion to the women of Fayetteville the organization will be hosting their second Go Red for Women Luncheon on May 14 at the Embassy Suites. Debnam explained that the luncheon will be both informative and entertaining. Susan Sparks, who is a former trial lawyer and is now a Baptist minister and stand-up comedian will provide entertainment for the night. There will also be a health and wellness segment that is sponsored by Morgan Stanley and a segment where a medical expert will present crucial information about heart disease that is sponsored by The First Health Regional Hospital.
There are many ways that people can contribute to the fight against heart disease. Anyone can host an event at their house and invite friends and family to act as a fundraiser, or just as an event to spread awareness. There is also the Heart Walk in October, where anyone can make a team out of their friends and families and help to fund and raise awareness for the battle against heart disease.
For more information, go to the website www.goredforwomen.org, the go red for women facebook page or the website ahagreenvillenc.ejoinme.org/MyEvents/20122013FayettevilleNCGoRedLuncheon/tabid/402556/Default.aspx.