It is no secret that Fayetteville is home to Fort Bragg, which is home to some of our nation's bravest heroes. Our military defends the values of freedom and democracy and is known for its bravery and sacrifice in the face of evil. However, when our soldiers are not busy stamping out in-justice or bringing down dictators in foreign lands, some of them are actually quite the art-ists. The 2013 Army Arts and Crafts Contest, open to servicemen and women, Department of Defense employees and family members, is a juried contest designed for seasoned and accomplished artists as well as novices begin-ning their creative journey.
The artists begin by selecting from one of the following categories: ceramics, digital art, drawings, fibers and textiles, glass, metals/jewelry, mixed media, wood or two-dimen-sional arts. From there, the fun begins!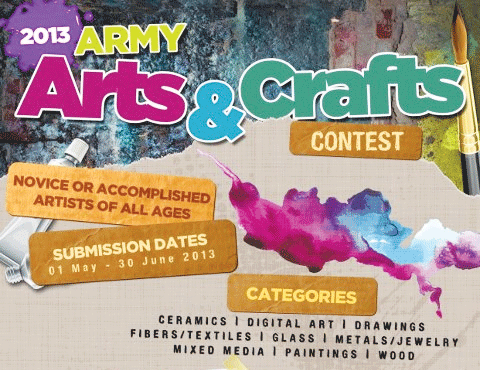 The artist then creates the a piece (or sev-eral pieces) using his imagination and creativ-ity to bring to life an expression that will go on to be seen by many others. This is a digital competition, so works are submitted and judged using digital images. The submission dates are between May 1st and June 30th and will be judged at the regional level. The submissions that win will then move on to the Army-wide contest. There, they will be judged against other works from soldiers throughout the Army. The works are divided into two categories: Group I for beginners and novices and Group II for experienced artists. At least three qualified judges with the proper experience will be selected to judge in all levels. The jurors are expected to participate in the contest professionally as curators, critics, educators, practitioners and editors. The winners will receive prizes for their submitted works of art with $100 for third place, $200 for second and $300 for first.
This event serves as a unique opportunity for those who serve to express themselves through their art work. Sara Matherly, manager of Frame and Design Arts at Pope Army Airfield believes that art often serves as therapy for the soldiers. "Art has as much a place in the soldiers' lives as sports or fit-ness. As those help their bodies, art helps their minds," she said.
Given the nature of their duties, sometimes a soldier's life can get pretty tense. This event allows for a release from their everyday du-ties and affords them the opportunity to see what others are doing. They also receive sup-port from the community. Cape Fear Studios has displayed art works by soldiers who are deployed, giving them a connection to home while they serve their country.
To find out more about the rules and guidelines visit www.armymwr.com/recleisure/artsandcrafts/contest-guidelines.aspx or call 394-4192. To enter the contest, visit https://apps.imcom.army.mil/apptracmain.