The public hears about the economy all the time. Numbers, which track the financial health of the country, are continually tallied, analyzed and reported. Industrial output drives many of the statistics that are used to measure so many of the nation's vital signs. While the country depends on these industries for so much, the public seldom acknowledges the impact of industry on a day-to-day basis.
Every day people purchase and consume products without a second thought as to how these items made it to the store shelves. Locally, people drive by buildings that dot the landscape and have no clue about the items produced and manufactured inside.
"These businesses are hidden all over the county," said Existing Industry Manager at The Economic Development Alliance Cathy Johnson. "There is a lot of industry here that people don't know about, places that have been here for decades and it might be right next door to them and they just don't know what these businesses do."
This is the perfect time to change that. May is Existing Industry Month. It is a chance to acknowledge the efforts and the impact of the businesses that produce the many gizmos and gadgets that make life easier. On Thursday, May 16, the Fayetteville Regional Chamber and the Economic Development Alliance celebrate Existing Industry Month with the 2013 Existing Industry Appreciation Awards Luncheon.
"We really need to show existing industry that we value what they do for us and what they bring to Cumberland County," said County Commissioner Charles Evans. "As a community we need to be sure that we support local industries as much as possible."
While many have no idea how many businesses are based in Cumberland County or what they produce, for the most part, that is usually not a bad thing and it is often the way plant managers prefer it.
"Once they are in the community, a lot of people forget about them," said Russ Rogerson, executive vice president at the Economic Development Alliance of Fayetteville & Cumberland County. "They (the businesses) like it that way, but your existing industries are the staple of your economy. These are the companies that hire and provide the kind of wages that allow employees to buy homes and cars. It is the engine of the economy. It all starts with a job and they are obviously providing these jobs, which support many other jobs in the second-tier level. These industries that provide jobs usually don't want a lot of fanfare but it is important that we understand their impact. Existing Industries month is one of those times we get to say thank you."
Cumberland County is home to more than 300,000 people and includes Fayetteville as well as the towns of Eastover, Falcon, Godwin, Hope Mills, Linden, Spring Lake, Stedman and Wade as well as Fort Bragg. Industry in the area, according to the Cumberland County website includes companies that make air filters, automobile tires, carpets, clothing, farm chemicals, paints, pesticides, synthetic fibers and tools. In the third quarter of 2012, Thrive North Carolina indicated that 80,282 people were employed in private industry, that's more than a quarter of the jobs in Cumberland County.
The luncheon celebrates several anniversaries, including 15 years in business in Cumberland County for Aggreko and LeBleu Water; 45 years for Wesco Distribution and 80 years for Riverside Mattress. The recipient of the Al Prewitt Economic Visionary Award will be recognized at the luncheon as well. The award is giving to an individual or business for one or more of the following: creation of new jobs, corporate investment, expanded production of an existing facility or improving quality of life in the community.
The Fayetteville Regional Chamber is a business advocate in the community and works to make Cumberland County a place that is not only appealing as a place to live, but as a place that is business-friendly. That means working to meet the needs of existing industry as well as looking for ways to attract new industries to the area.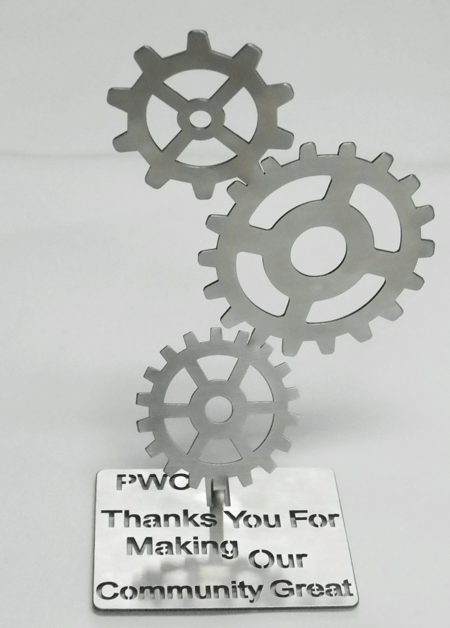 "The chamber plays a variety of roles," said President & CEO of the Fayetteville Regional Chamber Doug Peters. "We work closely with the educational system and career technical education system to make sure we have a capable world-class work force. Many companies want to be in a place with a well-trained available work force and we work to make sure our community can provide that."
This strategy includes everything from partnering with Fayetteville Technical Community College to customize training for potential and existing industries in the area to fostering relationships with the local government to creating networking systems and opportunities for plant managers and industry leaders.
"We take a multifaceted approach to what we are trying to do," said Peters. "I think the outlook is very bright for our area. One of the attributes of this community is the skilled and trained work force at Fort Bragg. An estimated 6,000 soldiers come out of the military from Fort Bragg every year. We partner with the U.S. Chamber to bring Hiring Our Heroes to the community. This gives service members a chance to transition their resumes to a civilian resume and apply for jobs. These are people used to getting up and going to work on time, they have soft skills and industry skills, which are a lot of the skills that are military learned. These are easily transferrable to the private sector. That puts us in a competitive position to attract companies to the community to fill jobs with capable and motivated people."
Find out more about the Fayetteville Regional Chamber and the Economic Development Alliance of Fayetteville & Cumberland County and how you can help celebrate Existing Industry Month at www.fayettevillencchamber.org.
Photo: A strong supporter of existing industries in the area, PWC says thanks to the many companies that make this community great.