A true band of kindred spirits, the Gypsy Women have been together for 18 years. They've seen each other get married, have babies and raise families. They've weathered divorces, illnesses, deaths and other tough times together. The Gypsy Women take care of each other — and they take care of the ones they love.
Sometimes that means a sick friend or a widow. Sometimes it means giving to a worthy cause like Hospice or Duke Children's Hospital. It always means giving back to the community. That's what the Gypsy Women do. And they do it wholeheartedly — with sass and vigor. Stewart and Marsha Bryant can attest to that.
The Bryants were in an accident last July while in New York and found themselves facing a pile of unexpected bills. Even though the couple had insurance, it was still a big hit financially, not to mention the emotional trauma.
"I was in the hospital for a week and we had extra expenses and hotel rooms and rental car bills and medical expenses that our insurance didn't cover," said Marsha. "The Gypsy Women did a poker run for us and raised about $6,000. We are defi nitely thankful for them and what they did for us. We were even able to give $1,000 of that money to another lady who has breast cancer and was struggling to pay her bills, too."
Though there is always something going on at Legend's Pub on Bragg Boulevard, the Spring Fling is a favorite for Gypsy Woman and Legend's Pub owner Holly Whitley. This year the event falls on May 24-26.
Spring Fling is a weekend packed with activities, food and fun. And each year, the Spring Fling raises money for a worthy cause. Things kick off on Friday, May 24 with a pre-party that includes a pool tournament. Up to 32 people can play, it costs $20 per player, with a $500 pay out.
Saturday's events kick-off with a poker run. Registration for the poker run starts at noon. The ride is followed by a pig pickin', an auction and a raffle. The pig pickin' and auction are set to happen after the ride, most likely around 5 p.m. Up for raffle this year is a 2004 Dyna Wide Glide. Tickets for the raffl e cost $50 and only 200 will be sold. The raffle winner will be drawn after all the tickets have sold. Winners do not have to be present to win. The raffle is sponsored by Ray Road Auto Parts and Service, Legend's Pub and Sellers Paint & Body Shop.
Sunday features a bike show. Registration starts at noon and judging will be around 3 p.m. to announce the winners. After the bike show, stick around for the rodeo, which includes fun and games — Gypsy Women style. Don't miss the cookout afterwards, too.
The proceeds from this year's Spring Fling benefit Kidsville News! Kidsville News! is a literacy publication that goes into the hands of every elementary student in Cumberland County. Partners like the Gypsy Women help put the papers in the children's hands.
A check will be presented Sunday evening at the cook out.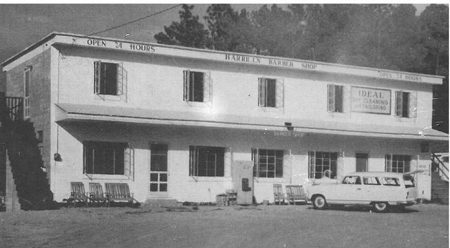 As one of the first biker bars in Fayetteville, Legend's has acquired an eclectic group of patrons, something that Whitley loves.
"We have people from all walks of life that come in here," she said. "And they all bring something different to the place," said Whitley.
Julie "Jules" Farrell, one of Whitley's friends and a Gypsy Woman, says it is Whitley's big heart that makes Legend's such a special place.
"Holly is such a generous person and so giving. She comes from the heart and people can sense that in her. It is easy to see that cares about people."
This is represented well on the back wall of the pub. It's filled with images of friends, family and patrons who have been a part of Legend's Pub in some way.
"These are people we loved. They are our family, and now they are gone," explained Whitley.
Some of them were killed in combat, some in accidents, some were taken by illnesses. All of them were loved and a part of the Legend's family. Whitley knows each of them by name, how they died and when. She shares touching stories about each one and it is clear that they were more than customers. They are family.
Whether it is poker runs, a Spring Fling or Thanksgiving Dinner at the pub, people who know Whitley know that she looks out for her friends. Last year the Gypsy Women raised more than $40,000 for a variety of causes. Whitley estimates that the group has raised about $500,000 through the years.
"We've done poker runs and other things like the Spring Fling for a bunch of different causes. We have helped people with cancer and other sicknesses. We've raised money for people who have been hurt in accidents, and we've given to organizations like Duke Children's Hospital. We even helped Goodys (the apparel store that used to be on Skibo Road). We raised more than $10,000 for them for a fundraiser they were doing. This year we are giving the money from the Spring Fling to Kidsville News!," explained Whitley.
While Whitley is the driving force behind the Gypsy Women, there are others who eagerly step up to support her endeavors.
"Some people are busy and are able to help by donating cash or auction items and other people choose to give their time. I can't tell you how many hours have been donated to helping us help other people out," said Whitley. "Our men are always ready to help out and do whatever we ask them to do, too."
"They do a lot of the heavy lifting for us," added Farrell.
Legend's recently underwent a facelift, with upgrades to the building inside and out. After some push back from regulars and a few jokes about putting lipstick on pigs, it has turned out to be a good thing because the things that make Legend's Pub Special are still there. The atmosphere is still laid back and welcoming. The beer is still cold. The wall of pictures still holds the faces and memories of the departed and Legend's is still the home of the Gypsy Women.
Find out more about Legend's Pub, the Gypsy Women and Spring Fling by calling 867-2364.
Photos: top right; Holly Whitley, Gypsy Woman and owner of Leg-ends Pub. Middle left: Legend's Pub in the early years. Bottom right: Legend's Pub today.