As the weather warms, more and more people dust off their running or walking shoes and take to the streets. Further, tough economic times have led to a resurgence in interest in running and fi tness over the last several years according to a report by Running USA. Running relieves stress, improves fi tness and helps participants maintain healthy weight levels. What better way to celebrate the start of summer than with a good test of your abilities? For the 17th year, the Army will celebrate its birthday with a 10 Miler. This year, the race is on June 6.
Not in the Army? No problem. This race is open to the public, but only the fi rst 2,000 participants will be accepted, so sign up early. Race fees are $15 if received on or before May 30, and $20 thereafter. The last day to register is June 5 at 5 p.m. Runners can register online at www.fortbraggmwr.com through May 30. Runners can also register in person at the Leisure Travel Services offi ce in the mini-mall near Reilly and Honeycutt Streets or the Funk Physical Fitness Center on Gruber Road near Longstreet. There is no race day registration.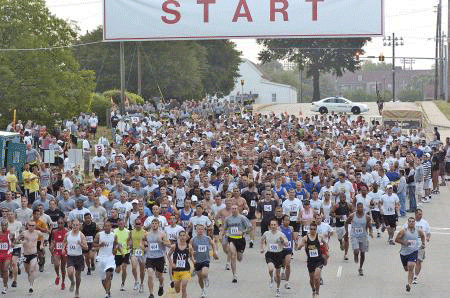 Race packets must be picked up prior to the date of the race and can be picked up at the Funk Physical Fitness Center. Race participants are timed by ChronoTrack timers affi xed to the back of race numbers, therefore the numbers are not transferrable.The race will begin at the Hedrick Stadium area on Fort Bragg at 6 a.m. with pre-race instructions being given at 6:20 a.m. Digital display clocks are at mile marks throughout the course, as well as seven water points. Five of the water points will offer Gatorade, and restrooms are conveniently located near the water points.
Awards will be given for the men's overall champion, women's overall champion and the top three fi nishers in 11 classifi cations by age, including wheelchair. There will be team competitions as well; however, the team competition is limited to active-duty personnel. There is no limit to the number of runners on a team, but only the top eight finishers of men's or mixed-division teams and the top four finishers for women's teams will count toward team scoring. Team registration must be completed online.
Not a runner? There is an option—for you, too. For the eighth year, in conjunction with the 10 miler, there will also be a 4-mile walk for fun. As this is a non-competitive event, participants will not receive a timing tag. Registration and packet pick-up for the fun walk is the same as the race participants.
Pets, bicycles, roller blades and headphones are not permitted. Need more information? Visitwww.fortbraggmwr.com for more information, registration and for race maps.
Photos: Celebrate the Army's birthday like a trooper - with a 10-mile road race.