Think of a four-letter word that is a type of dance, a lot of fun, bonds people together and originated in the south. Stumped? The answer is the shag.
What started out around the '30s and '40s became a sensation especially in the east coast region of the U.S. It got its start in the era of the jitterbug and the Lindy Hop Swing and was paired by classic beach music. People got together at Myrtle Beach during summer vacations and witnessed the dance and they brought it back to the in-land cities like Charlotte, Raleigh and Greensboro.
On July 12-13 the Fayetteville Area Shag Association celebrates the spirit of beach music at the Fluff Daddy Memorial Shag Contest at Mavericks Saloon, 2602 Raeford Road. It is the club's first contest in about seven years and all proceeds will go to the Jim "Catfi sh" Hunter Chapter of the Amyotrophic Lateral Sclerosis Foundation. A friend to many in FASA, Mike "Fluff Daddy" Blanton, died of ALS and the club is looking to honor his memory and to earn money for other families dealing with the disease.
The contest has four divisions. There is a newcomer section for people who have never danced or competed before but are interested in doing so. The other three are amateur, novice (intermediate) and pro (advanced). The contestants will be judged on five categories: smoothness, togetherness, repertoire, degree of difficulty and execution; the categories are judged from numbers one through 10 by five judges.
The Fayetteville Area Shag Association has actively been involved with shagging since 1984. The group started out small; people would meet at other's garages and driveways, throw some music together and dance away. They even met in front of the old Winn Dixie in town. The club is now at Mavericks Saloon on Raeford Road and approximately 200 people are involved. Music, laughter and a relaxed feeling is what encompasses visitors as they walk inside. There are always beginning and intermediate shag classes going on, which are taught by Cathy and A.C. Williams. The phenomenal two are three-time national and three-time grand national dance champions and two-time team champions.
Whether it's the instructors or the dancers, on the dance floor, everyone helps out everyone else.
"People watch, but they don't critique. We learn from each other and become better dancers by dancing," Dennis Johnson, club president, said.
The open atmosphere goes hand-in-hand with the dancing. There have been instances where a person doesn't have a partner and he or she goes up to a stranger to ask to dance and it turns into something more. Cathy Williams affi rms that seven marriages and two engagements resulted from being partners on the FASA dance fl oor. One of those couples just so happens to be Johnson and his wife Susan. They dated for two years and have been married for five.
FASA also participates in community events like Fayetteville after 5, and has given shag lessons at the Cumberland County Library and local nursing homes. Shag dancing doesn't stop here in North Carolina. In the Association of Carolina Shag Clubs, there are about 98 clubs that vary from New York to Virginia to Tampa and Jacksonville, Florida to South Carolina and as far west as Tennessee. There are even workshops in Las Vegas and Georgia. One popular event is hosted by the Society of Stranders (SOS) and happens three times a year. Shaggers come from all over to North Myrtle Beach, S.C., for a 10-day period to reunite and hit the usual spots on Main Street such as Pirate's Cove, Fat Heralds and Duck's.
"It happens three times a year, so this event is like an SOS reunion. We all like the same thing — to dance," Dwayne Baggett said. He describes it as "park and party," where one parks his car and doesn't move it until it is time to go home. With SOS, people also get to see other dances — swing boppers, the lindy hop and more. All to the same east coast swing music.
Like many things, shag dancing takes practice.
"The key thing is to count 1 and 2, 3 and 4, 5, 6," Baggett explained. Beginner classes involve learning the male and female turn, the female stomp, the start position and towards the end of the class, how to pivot. Intermediate classes take on moves like the sugar foot, belly roll, the booty walk. Cathy and A.C. Williams teach the genders their moves separately and then they come together as one.
"Sure there is anxiety and frustration, but you have to keep practicing and getting that muscle memory," Johnson said.
Mavericks Saloon is a place that gathers all kinds of different people. Lawyers, plumbers, judges, teachers, veterinarians, bankers, dentists and people with military backgrounds all are united by their passion to shag. It's the people and the community that make the experience great.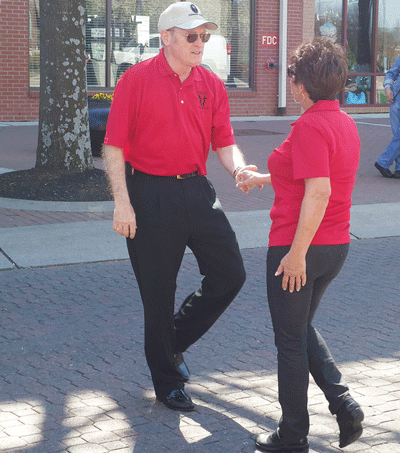 "There is satisfaction knowing we are perpetuating the dance. That and simple focus is the music," Johnson said.
Baggett added, "I make the means and help guarantee the income to the club in preparation for them to have a good time. It is an enjoyment to dance with other people. There are no problems or jealousy with one another — it's all about having fun on the dance floor."
Just like technology, over the years the shag has been changing and evolving from one generation to the next. There is now a Junior Shag Association for dancers under age 21. The age categories are 4 through 12 years and 13 through 21. The junior SOS is being held in Myrtle Beach at the end of July. "There are young and athletic kids who can do unusual splits and drop on their knees and pop up. For me, I can go down, but I won't get up," Baggett joked.
No matter how much shag has changed from its original form years ago, FASA just wants it to continue. "The goal is to continue membership and continue the dance and music," Johnson said. The group hopes to offer new beach bands and possibly country and pop songs that still have the 4/4 count.
Come out to Mavericks Saloon with family or come alone! You don't even have to dance to have a good time. "Many people come and never dance. They come for the fellowship and the music and just watch," Baggett said. So if you want to try something new or meet new people, this is where you want to be.
For more information on FASA visit fasadance.com and for information on taking lessons at Mavericks Saloon call 910-980-1767. Lessons run for four Mondays each month and are $40 per person.
Photo: The Fayetteville Area Shag Association par-ticipates in community events and promotes shag dancing. Above, FASA members dance on Hay Street for a local festival to raise money for the Cameo Art House Theatre.