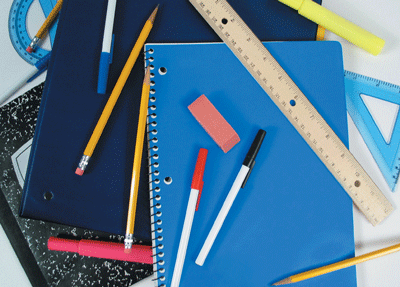 School bells will be ringing soon and the Cumberland County Schools system wants to make sure that students are prepared by having the "Stuff the Bus" initiative on tax-free Friday, Aug. 2, from 8 a.m. until 8 p.m. at the Ramsey Street Super Walmart. The goal is to obtain enough school supplies to ensure that every homeless student has a backpack filled with items they need to be successful at school and to continue filling them throughout the school year.
"This is the sixth year we have had this school supply drive," said Pamela Story, Cumberland County Schools social work coordinator. "We are once again partnering with Communities in Schools of Cumberland County and their 'Build A Backpack' school supply campaign conducted by Wal-Mart." Story added that under the McKinney Vento Educational Act's definition, in the Cumberland County Schools system, 649 homeless students were identified for the 2012-2013 school year.
The items most needed include backpacks for all grade levels, three-ring binders, notebook paper, regular pencils, mechanical and colored pencils, glue sticks, pens, dividers, pocket folders, composition books, school uniforms, hand sanitizer, flash drives, Walmart gift cards and cash donations.
"The donated supplies will be distributed to students residing in shelters, transitional housing and motels, as well as to others in need," said Story. "We all share the hope that our children will have a successful school year, but for many parents school supply lists present a challenge," said Story.
She added that she is excited that across the county there are faithful sponsors that have been hosting zumbathons, book and school supply drives and motorcycle runs to help support our students who attend year-round and traditional schools.
Donations of new supplies are also being accepted between 8 a.m. and 5 p.m. at the Cumberland County Schools Social Work office located at 2465 Gillespie St. For more information about the event or other ways to support students in need, call 678-2621.
Photo: Last year there were more than 649 homeless stu-dents in Cumberland County. Stuff the Bus aims to provide school supplies for them.