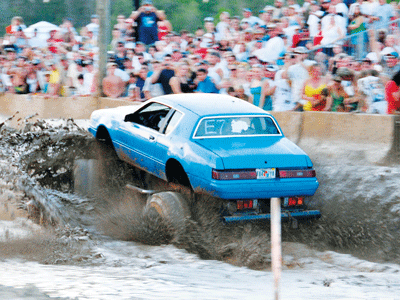 Big trucks, small trucks, old trucks, new trucks and mud trucks. No, this isn't a Dr. Seuss story, but the scene of Aug. 10 at the Outback Motorsports Complex in Laurinburg. The Mud Bog Run will raise money in support of the local Spring Hill Fire Department so that the firefighters can better equip themselves to save lives and homes. Additionally, some of the money will be donated to Relay For Life.
The Mud Bog Run is what one might expect. ATVs, dirt bikes and trucks are welcomed to tear up the mud track for an evening of unadulterated, mud-slinging fun. Mudding became popular in the '70s throughout the United States and Canada and still remains immensely popular today.
"It's cool to see the guys go through mud bogs. It's pretty popular to a lot of people. We'll have a three-acre pond in the back, too. We'll have a little bit of mud wrestling and a little bit of everything," said Mike Evock, owner of Outback Motorsports Complex.
"It's a good, family-oriented event and park," Evock said. "It's an event for people to get together, have some food, have a good time and have fun."
While enjoying the mud bog, pick up some concessions and enjoy the DJ at the event as well. Also, there will be a bouncy house for the kids to enjoy.
This is the first Mud Bog Run in support of the Spring Hill Fire Department. The money raised will help the department buy more firefighting equipment as well as aid their construction efforts in adding to the department's new building. The Mud Bog Run is the perfect social event to have a great time and support a good cause. If this is your first mud bog run and you'd like to participate directly, Evock has some advice.
"Just have good tires on your truck and go right ahead," Evock said. "Go out there and go for it. Give it a shot."
Relay For Life is the charity of the American Cancer Society. Since 1985, Relay For Life has donated more than $4 billion to cancer research. Participants in the relay jog different laps to bring awareness to the harm cancer does to society. The organization began in May of 1985 when Dr. Gordy Klatt ran around a track in Tacoma, Wash., for 24 hours, ultimately raising $27,000 for the American Cancer Society. A year later, hundreds of supporters joined the event and it has since grown into a worldwide phenomenon.
Do not miss out on the chance to help save lives in two different ways. The gates to the event will open at 9 a.m. And the mudding will begin at 3 p.m. For more information about this event, call 916 0284.