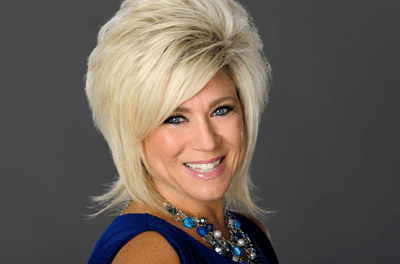 The Crown Coliseum presents Theresa Caputo, star of TLC's Long Island Medium, on Monday, Oct. 21 at 7:30 p.m. She will give live readings to audience members throughout the show. During a recent interview, we discussed her life experiences and communicating with the dead.
UCW: When did you first realize that you could communicate with the dead? Did it scare you?
TC: I began seeing spirits at the age of 4. I did not know that I was communicating with people that had crossed over until the age of 28. I just actually thought it was normal that people just saw and heard things when no one else was in the room. I suffered with anxiety for many years; I went to a spiritual healer. She told me that I was empathic and was feeling other people's feelings and emotions and also the emotions of people who have crossed over. I didn't learn to be a medium. What I learned or understood was what the spirit was trying to tell me. My gift is always there; it is just a way of interpreting it in the way the spirit would like to tell the person that needs to receive a message.
UCW: What should we expect to see this season on the show?
TC: We had major construction in the house due to having mold in the house. Besides the bathrooms, we did some additional construction. Victoria and I went to a farm for a mother/daughter getaway. My son, Larry, thinks he can move out and make it on his own so he kind of sprung that on me. I meet some beautiful people with some amazing stories. What I love about what they have done this season is going back and catching up with people that I have met in the past and hearing from them firsthand how the experience changed their lives.
UCW: When you come to the Crown on Oct. 21, what should Fayetteville expect with your live experience?
TC: The only thing to expect is that I am going to show up with my hair and my nails done, great dress and fabulous shoes. Even if you do not get read, you will walk away that evening different. I will talk about 15 minutes about my gift. I incorporate some stories and examples of how the spirit will communicate in a large venue. I also include some answers to the most frequently asked questions that I get and then we go into spirit communication for about an hour and a half. It really is an experience.
UCW: How do you handle non-believers?
TC: I don't handle them. It is what it is. I try to explain to people I am not here to prove or defend my gift. This is not about them believing in what I do. This is about you knowing that there is truly more to know in life that is here in the physical world. Also I have learned that we have all lost somebody who has died and we've all lost somebody in a common or similar way: heart attack, cancer, stroke or car accident. There's nothing that I can do about it. That is the way people die. What separates it apart are the unique things that the spirit talks about. The spirit will talk about the things that happened after they left the physical world. It will describe intimate moments that you had after they died. I am not making the stuff up. Somebody is telling it to me. When I am in the presence of someone that needs closure or peace from their loved ones, spirits start making me feel things and hear things that mean everything to the person that is receiving the message.
For more information about Theresa Caputo, visit www.tlc.com/tv-shows/long-island-medium. For more information about her appearance at the Crown or tickets, visit the Crown website at www.atthecrown.com.
Photo: Theresa Caputo, also known as the Long Island Medium, will be at the crown on Oct. 21.