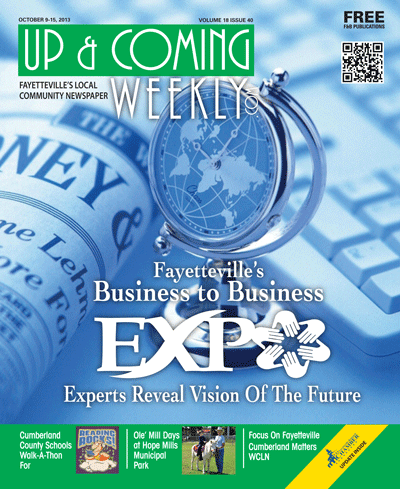 Passionate. Visionaries. Tenacious. Resourceful. These are all words Lisa Thomas, president, CEO and senior business coach at The Power, Passion & Purpose (P3) Group, uses to describe business owners. As a business coach and business owner, Thomas knows that owning a business can be a lonely road sometimes. Thomas understands that in these tough economic times businesses can become stymied or vulnerable.
"It is not a good feeling when you are standing there by yourself and feeling stuck," said Thomas. "But it is a great feeling when you find the resources you need to work through a problem or get around an obstacle and that is what we are hoping to address at this expo."
That is what the Fayetteville Business to Business Expo is all about. It is about bringing business owners and executives together with other talented local business owners and executives and providing them with valuable insights on how to expand and grow their business operations. On Oct. 17, the P3 Group is partnering with Up & Coming Weekly, the community newspaper, and Cumulus Broadcasting to host Fayetteville's first Business to Business Expo at the Holiday Inn Bordeaux.
"We want to get people connected and give them resources to work through and overcome whatever it is that is making them feel stuck. It is so much easier to get through something when you can talk with someone who has already walked that path or solved that problem and is willing to share their experiences and insight," said Thomas.
It will be a day-long event starting at 8:30 a.m., with a continental breakfast and continuing on with accomplished speakers, local business exhibits and vendors, a keynote buffet lunch and culminating with a fun business-to-business networking reception hosted by special guest Pam Saulsby. Saulsby is a well-known journalist, singer and WNCN news anchor. There will be plenty of fun, prizes and surprises for those attending.
The speakers are accomplished. In addition to Thomas, who will speak on 21st Century Business Strategies, the other guest speakers are: Stephanie Bowens, The P3 Group's senior wealth adviser, who will cover popular and timely business financial strategies. Event co-host Bill Bowman, publisher and founder of Up & Coming Weekly and Kidsville News! will address the importance of having a well-defined marketing, promotion and branding strategy. He will be followed by successful businessman Mike Lallier, owner of Reid-Lallier Chevrolet, who will discuss the importance of excellent customer service as the true foundation of success. These topics were chosen because of their relevancy and because they are the proven essential elements of any company's success and strategic plan.
Fayetteville and Cumberland County has a diverse business community, which is represented, in part, by the local Chambers of Commerce. To ensure that those voices are heard, the afternoon session will conclude with candid conversations and a question and answer session with the presidents of all three area Chambers of Commerce, including Doug Peters, of the Fayetteville Regional Chamber of Commerce; Jan Spell of the Hope Mills Chamber; and Jeffrey Hunt, of the Spring Lake Chamber of Commerce.

Thomas noted that the importance of adding the Chamber staff came from their unique insights and knowledge of the challenges local businesses will be forced to face in today's market. She added that the Chamber representatives were eager to participate because they realize the vital importance of knowing how to conduct business in this challenging economy.
"We are producing the B2B Expo this year with the idea of making it an annual event," said Bowman, who is actively engaged in many local organizations and business organizations.
"Our goal is to showcase talented people and quality businesses and organizations and give them all the opportunity to let other businesses and organizations know who they are and who they need to be doing business with. The B2B Expo will be a first class-event. Lisa and I know and appreciate how valuable time is to both the attendees and speakers. We want to make sure we deliver the type of information, the message and experience that will make this day a great value and worthwhile business investment for all who participate."
Pre-registration is required and tickets are $45 ($35 each for additional attendee) and may be ordered at: www.TheP3Group.com/businessexpo/register. Price includes: continental breakfast, keynote lunch, networking reception, prizes and surprises and of course, knowledge, upon which you cannot put a price. Sponsorships, vendor booths and exhibits are also still available by calling 910 391 3859 or 910 221 9294.
Photos: The panel of chamber presidents. (L-R) Fayetteville Regional Chamber of Commerce President, Doug Peters, Hope Mills Chamber of Commerce President, Jan Spell, Spring Lake Chamber of Commerce President, Jeffrey Hunt.