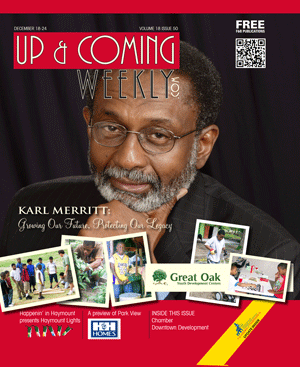 Karl Merritt and Bobby Washington have been friends for years. As friends do, the two often chat about things that matter to them. "One Sunday morning …we can't remember exactly how it happened, Bobby Washington and I started talking and somehow we ended up talking about our daughters," said Merritt. "I have a daughter about the same age as Bobby's daughter. That led to a discussion of black males. They (our daughters) had talked to us about the crisis among young black men."
In a nutshell, America has lost a generation of black males. People seem quick to point out the under-education and poor employment opportunities young black men face. Few seem willing to do much about it. Washington and Merritt could have shrugged and walked away from the problem like so many do, but they didn't. They decided to do something about it. Washington was working on a Ph.D. in nonprofit management, and an acorn of an idea took root – an organization that would "… provide a foundation for achievement and success among male youth by directly providing educational assistance, mentoring, leadership and life-skills training and cultural-awareness activities." He showed the plan to Merritt. "I looked at it," said Merritt. "In a later conversation I said, 'What are we gonna do about this?' and Bobby's response was 'Let's make Great Oak happen.' I said, 'Okay, I am in.'"
The two teamed up with Catrina Murphy and got to work. The result was an all-volunteer organization that pairs youth with positive male role models — men who will invest in them, mentor them and hold them accountable. While committing several hours a month to something may sound intimidating, Washington sees it as a matter of perspective. "I've been doing it for a long time and it is pretty easy. It is a matter of prioritizing. If I had an antique car I wanted to spend 17 hours a week on, or if I wanted to golf 20 hours a week, I would figure out how to do it. We just ask for six hours a month. It is based on priorities."
The Great Oak website points out that "Other issues include the lack of men willing to invest a few hours a month to mentor a boy; the policy ramifications of public dollars invested after a child gets in trouble versus investment in preventative solutions; and the general apathy regarding the problem at far too many levels. The black boys across America who are adversely affected by these conditions have tremendous potential and great promise. They simply need to be nurtured."
For many of the young men who come to Great Oak, just knowing that someone cares can be enough to turn them around. The boys that come to Great Oak often show up with angry hearts. They've built emotional walls that can be tough to penetrate, but patience and consistency on the part of their mentors usually win out. "We had our first boy go to college in 2012 and three more in 2013," said Merritt. "These are the stories that show the effectiveness of what we are trying to do. A lot of it is anger management — 80-85 percent of our boys come from single-parent households with black females as the head of the home. There are some things going on that contribute to the crisis among black males, one of those is the anger generated in these boys because their father is not present. I hear teenage boys say things like 'I haven't talked to my father since was 2,' all the time."
Instead of feeling sorry for the young men, the men at Great Oak show them that they are valuable and that they have potential and then challenge them to reach for the stars, empowering and encouraging them along the way. Men and Boys Unity, one of the Great Oak programs, meets one Saturday a month, eight months out of the year. Guest speakers are often invited and the men and boys discuss things like responsibility, healthy relationships, financial management and etiquette. But they do much more than talk. Once they are in high school the boys draft a life plan. "Some understand it but most ask 'Why do I need a plan? I am just in 9th grade.' Then you explain that this is not a choice and we explain that planning is part of critical thinking. Sometimes you do get the wide-eyed look or they will say 'No one ever asked me to think about what I am going to do with my life.'"
Then a door is open to explain the importance of having a plan. The boys are given a template that asks about hobbies, classes and what they like to do and are good at. "If they say they want to go to college," said Washington, "then we will assist with that process or with whatever their plan calls for." To help the young men plan, Great Oak brings in military representatives, as well as professionals from Fayetteville Technical Community College, Fayetteville State University, community leaders and businessmen. People talk with parents about their critical role like making sure the boys take the right courses and tests for post high school life, too.
To teach the young men the value of hard work, Great Oak gives them something to work toward. Since 2009, Great Oak has managed a few plots at the Fayetteville Community Garden each year. The boys prep the soil, tend the plots and help maintain the common areas and abandoned plots.
To develop critical thinking skills, and help improve performance at school, the Men and Boys Unity program added a Chess Club to the program in 2012.
During the summer, Great Oak offers a leadership and entrepreneur camp. Educators, business leaders and civic leaders in the community participate in programs that focus on leadership development, skills instruction, confidence building and orientation for success.
The Great Oak mentoring program matches each youth with a volunteer who is committed to them for an extended period of time. Through these relationships mentors teach the boys important life skills: they help them plan for the future; they help build confidence in the young men; they encourage positive attitudes and more. Sometimes it is as easy as showing up at school to have lunch with the boys and talking with them about their grades. "It means the world to them that someone is interested in them for them," said Washington. "They may not show it at first but the boys really do appreciate when someone takes an interest in them."
To be a Great Oak mentor, volunteers submit to a background check, are interviewed by a social worker and undergo training before being paired with a youngster. Youth can be referred to Great Oak by school officials, community officials or by parents/guardians. Find out more about Great Oak at www.goydc.com.