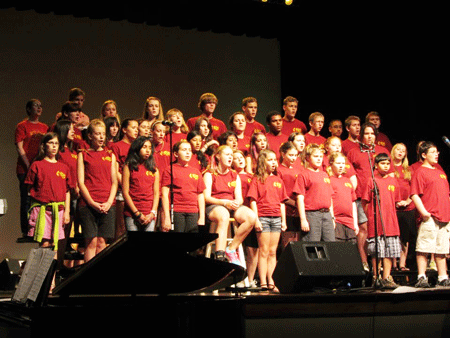 Segue is a one-day, high-energy event for youth choirs sponsored by Snyder Memorial Baptist Church on Feb. 8. The event showcases more than 200 singers and includes an orchestra. This experience provides the interaction and inspiration students need to take their choir ministry to the next level and concludes with a pub-lic concert at 6:30 p.m.
Segue is a cooperative effort between Campbell University Divinity School and Snyder Memorial Baptist Church. It is designed to help youth choirs in North Carolina. Dr. Larry Dickens, the Duncan Professor of Church Music at Campbell University Divinity School, started the fes-tival two years ago after seeing a need for a youth choir festival in the Eastern part of the state that would help local churches launch successful youth choir ministries. "We hear of churches throughout our region that need help initiating or reviving a youth choir ministry. This event provides the energy and insight needed to help choirs segue to the next level of per-formance and participation," said Dickens. The festival seeks to not only involve teenagers musically, but also emotionally and spiritually throughout the day.
"I am working directly with the students, but also, we want to use this event to support and be a resource throughout the region," said Dickens. "One of my passions is youth choir ministry. Segue is designed to help build a choir ministry where perhaps there has been an interest but just getting it started is where they were struggling. This was designed as an incubator to grow interest among teens and to encourage directors. Some of the choirs that attended our first event three years ago have grown from five or six members or to 30 plus members."
This year's Segue festival involves eight choirs from across the state from sev-eral different denominations. Each year an honor choir is selected to showcase what youth choirs can accomplish. This year's honor choir is CrossFlame from St. Luke's Methodist Church in Hickory, N.C., directed by Ron Sinclair. The past two Segue youth choir festivals were held at New Hope Baptist Church (2011) and Butler Chapel at Campbell University (2013). Snyder Youth Choir and the youth choir of First Baptist Church Southern Pines were featured as the honor choirs in past years.
"This event is not just music-driven. We are trying to impact lives for teens through choral art and inspire their own faith through this experience," said Dickens. "We are inviting the community to come hear the choir which is accompanied by an orchestra. They don't need to buy a ticket or make a reservation. Just come. It's free and we want to share this with the community."
For more information about the festival visit www.snydermbc.com or call the church at (910)484-3191.
Photo: The Honor Choir is part of the showcase at Segue each year. This year's Honor Choir is CrossFlame from St. Luke's Methodist Church in Hickory, N.C.