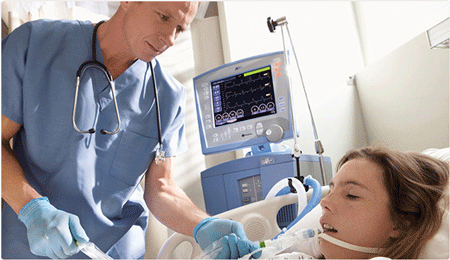 Healthcare has always been a field that is both challenging and rewarding. As technological advances in medicine are made, healthcare fields are broadened, and eventually, new disciplines are created. Most people are familiar with branches, such as nuclear medicine or radiography; however, many have never heard of Respiratory Therapy.
Respiratory Therapy focuses on the respiratory system. But what is not always understood is that the respiratory system does much more than take in oxygen to be distributed throughout the body and help the body by exhaling waste gases. When an individual has problems with breathing, such as asthma, this condition disrupts the state of internal balance, or homeostasis, which in some cases can be life threatening. Aside from an understanding of the respiratory system, the respiratory therapist must also consider many aspects of the cardiovascular system, which involves how oxygen is taken to the rest of the body. The relationship between the heart and lungs is so significant that some hospitals refer to the respiratory therapy department as "cardiopulmonary."
Fayetteville Technical Community College's Respiratory Therapy program equips graduates with the skills to work within this expanding branch of healthcare. Through a combination of lecture, laboratory and hospital clinical rotations, students learn the basic physiology of respiratory therapy needed for patient assessments, oxygen therapy, diagnostic procedures and ventilator management. Graduates will have an in-depth understanding of the anatomy and pathology of the respiratory system for identification, treatment, management and rehabilitation of diseases, such as asthma, chronic obstructive pulmonary disease, emphysema and interstitial lung disease — just to name a few. Through the program, students will have the opportunity to enhance their critical thinking skills for troubleshooting and equipment manipulation.
After earning an associate of applied science degree with a concentration in respiratory therapy at FTCC, students are qualified to take the required national boards, the Certified Respiratory Therapist and Registered Respiratory Therapist exams. Graduates who successfully earn CRT certification may then apply to the state agency for licensure and begin work in most states. The advanced credential of Registered Respiratory Therapist involves a two-step examination process that may be attempted after the CRT certification is obtained. The RRT credential is not only a professional achievement but also a monetary benchmark. According to salary.com, a CRT's median annual salary in the Fayetteville area is around $52,000, while RRTs earn approximately $4,000 more per year.
If you are an ambitious problem-solver who is looking for a challenging, exciting, and dynamic career in healthcare and are team oriented and enjoy helping others, then respiratory therapy may be the profession for you.
Visit our website at www.faytechcc.edu to learn more about the Respiratory Therapy program as well as other opportunities available to you at Fayetteville Technical Community College. Email hollomaj@faytechcc.edu with questions about the training at FTCC that can lead to your future career in Respiratory Therapy.
Photo: Fayetteville Technical Community College's Respiratory Therapy program equips graduates with the skills to work within this expanding branch of healthcare.