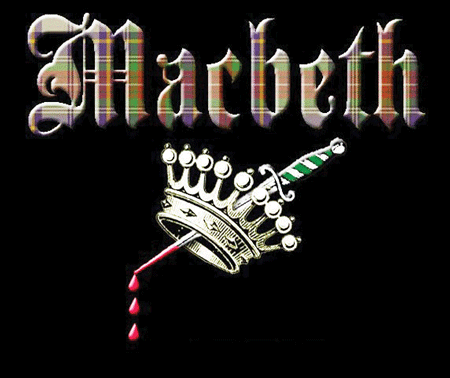 The Gilbert Theater presents the Scottish play, Macbeth, by William Shakespeare on March 28 - April 13. Showtimes are Fridays and Saturdays at 8 pm and Saturdays and Sundays at 2 p.m.
"Macbeth is considered to be one of Shakespeare's great tragedies," said Jeremy Fiebig, member of the board and actor who plays the character Macbeth. "It is about a saint in Scotland who is an up-and-comer that is told by three witches that he will become King of Scotland."
Fiebig added that after the saint receives his prophecy, he and his wife decide to take steps to make the prophecy come true. They conspire to kill the current king of Scotland and they end up killing him. The rest of the play deals with the aftermath of the murder and what they have to do to keep the power once they have it.
"I am playing the title character, Macbeth, in the play" said Fiebig. "He is an ambitious guy who has many speeches and scenes where his ambition becomes the major theme in the play." Fiebig added that Macbeth deals with a lot of self-doubt such as wondering if he should go on with the murder and how it would look to other people.
His wife is equally ambitious but has a different drive and less self-doubt. Behind the scenes, she persuades him to take action. Throughout the play, the lords will have to decide whether or not they will align themselves with Macbeth and his new control or if they are going to rebel against him and his new power. There are some fun and creepy characters in the production as well as witches. This production is a must see.
The Gilbert Theater is a community-minded theater company and conservatory serving Fayetteville and the surrounding areas. Its mission is to produce creative, innovative plays and events to stir audiences and students of its conservatory to explore and contemplate the human condition through the talents of local and guest artists. A summer acting camp is offered for youth ages 6-17 on Monday, Aug. 4, through Friday, Aug. 8, from 9 a.m.-3:30 p.m. The class includes improvisation, comedy, acting and movement. The camp will culminate in a Saturday performance at 7 p.m. at the theater. The early bird rate is $125.00 and after April 1 the rate is $150.00.
"Please come out and support our production," said Fiebig. "It speaks to a lot of things that humans have in common such as ambition and how will you respond to evil when it happens."
Tickets for Macbeth are $16 and $14 for students, seniors and the military. The Gilbert Theater is located at 116 Green Street. For more information call 678-7186.
Photo: The Gilbert Theater presents the Scottish play, Macbeth, by William Shakespeare on March 28-April 13.