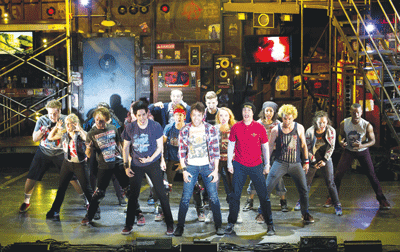 When the hit band Green Day made its way to Broadway it was a huge success. The high-energy punk rock nature of the songs in combination with the tough topics it tackles makes for not only an entertaining but also a deeply moving show. On April 15, for one night only, the Professional Artist Series brings the tour to the Givens Performing Arts Center on the campus of the University of North Carolina-Pembroke.
Andrew Humann, who is an ensemble character in the production, describes the show as, "... a big jumble of fun. It is like a rock concert with a heartfelt message. It's about three men who are trapped in a small town. One escapes to the city and one to the Army. There is something for everyone to relate to, like family members or friends going to war. It also deals with drug addictions, a heroin addiction and the demons that come with that, and the depression of being trapped in suburbia. People should expect a wild night of fun. The show combines all of these motifs and flows with Green Day's American Idiot album."
Modern music often gets a bad reputation as not having enough substance and meaning. American Idiot has no such problems. The focus is on three men who are life-long friends, and each is struggling with his own personal demons in a post 9/11 world. There are multiple struggles and themes within this play, but one of the most potent is on the subject of home.
"The show deals with the foundation of home and how important it is. They want to get the hell out of 'Jingletown' as they call it and branch out and see new things, but sometimes life brings you back to what really matters most like friends and family and what was there in your upbringing," Humann explained.
A national tour id an exhausting experience, and because American Idiot is such a high-intensity show it is even more difficult. The constant bus rides coupled with performances is naturally exhausting. But by being conscious of the trials and staying healthy it is an incredibly rewarding experience.
"The reception at the end is great. We have never not had a standing ovation. The reaction is the greatest reward. No matter how crappy your day has been, whether your dog has died or whatever, the gratitude from the audience just makes you forget how crappy it has been and move on," says Humann. This positive attitude and excitement that all of the actors have makes the show all the more incredible to watch.
The curtain rises on Green Day's American Idiot at 8 p.m. The Givens performing Arts Center is located at 1 University Drive in Pembroke. Tickets range from $34 to $45. Tickets can be purchased from the box office at 910 521-6361.
Please be advised that the performance contains adult content and language that may not be suitable for all audiences under the age of 14. Viewer discretion is advised. For more information visit www.uncp.edu/gpac.
Photo: Modern music often gets a bad reputation as not having enough substance and meaning. American Idiot has no such problems.