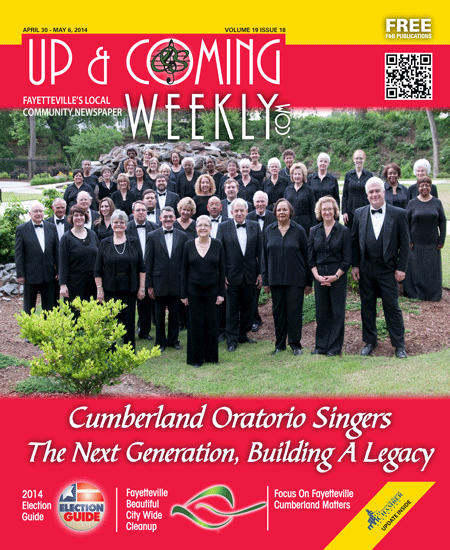 When Michael Martin, the director of Cumberland Oratorio Singers, chose John Rutter's Mass of the Children to close out this choral season, he had several reasons for doing so. He claims some of it was selfishness but it's not likely that everyone would see his desire for Fayetteville to have a youth choir as selfish. Martin has been an advocate for choral music and music in general since he arrived in Fayetteville in 2008. Under his direction, the group has grown in membership and has partnered with several musical groups throughout the community, including the Fayetteville Symphony Orchestra and the Fayetteville Symphonic Band. The Cumberland Oratorio Singers' May 3 concert featuring John Rutter's Mass of the Children is another example of musical collaboration and looks to be a good time for kids and grown ups alike.
"I heard this piece quite a few times. Rutter writes so well for the voice and it fits well for the local choir," said Martin. "Combine that with the fact that I had never conducted it before and it just seemed like a good fit."Martin knew that the Cumberland Oratorio Singers could carry their weight and invited the Cross Creek Chorale to join in the effort. From there, it was a matter of finding talented youth to perform. He reached out to several local schools, both public and private, in the community. Several responded bringing more than 50 youthful voices to the project. "Part of the reason for doing this is that I wanted to impress on people that a youth chorus is something this city needs," said Martin. "Charlotte has a good one, as do many other cities. I would like to see a community chorus for youth for the City of Fayetteville, too. I think Fayetteville needs one and I have impressed on the teachers that I think it is wonderful to watch students come together and sing something they otherwise would not be able to sing with adult professionals. I would be very happy if this causes someone to have the idea to start a youth chorus here."
Martin pointed out that many times people enjoy singing in choirs as children but once they are out of school they move on to other things. "I really think that people should not think of music as something they did when they were a child," said Martin. "I support technology and we need good consumers of music but that is not all we need to be. I try to bring the community together with events like this. You can't buy this kind of experience and feel this kind of intergenerational experience from something you bought online. Those are things you can only get through experiences. This is not difficult. If you did it in your youth and it was a great experience, keep doing it."
In bringing several age groups together for the event, Martin finds himself working with six schools that bring more than 50 voices to the production and the adults add more than 60. They range in age from 9 years old to 80 something. "We have every age accounted for from third and fourth grade to someone basking in their late retirement years," said Martin. "It is truly intergenerational. It makes the music almost secondary."
There are several parent/child partners participating in the concert. For many of the children it is just as much
fun to be doing something with their parents as it is to sing and perform on stage. Martin says this has been a positive experience for the performers so far, including his son, who will participate in the Mass of the Children. "He does well in the Fayetteville Academy Chorus and his teacher does a great job," said Martin. "Part of it is that he is excited to be able to do something with me and I am enjoying that aspect of it, too."
For Martin as well as many members of the Cumberland Oratorio Singers, the group is indeed about music, but that is just a piece of it. The music is what brings them together to share their passion, it is what they love to share with the community. That is what makes Fayetteville better — people sharing their passion and investing in their community. The Mass of the Children is on May 3 at 7:30 p.m. at Methodist University's Reeves Auditorium. Visit http://www.singwithcos.org/ to find out more about the Cumberland Oratorio Singers and the Mass of the Children.
Photo: Several parent/child pairs are set to perform in the May 3 Cumberland Oratorio Singers' production. Above, from left to right are Arline Porter with daughter Linda good, Dr. Michael Martin with son David, Donna Jo Mangus with daughter Jenna Jo, Jeanne Ennis with son Luke Ennis.