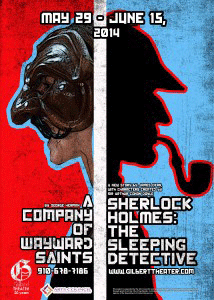 The Gilbert Theater founded by Lynn Pryer was a proving ground for local artists who continued to hone their collective skills through contributing their education and experience to promote Fayetteville's community theater. The Gilbert's current artistic director, Robyne Parrish's formula has provided a training ground for aspiring young artists with the addition of guest directors and artists in lead roles with whom she has worked in the past. This season's finale is the best of both worlds. The double-billed finale uses both experienced local favorites in lead roles with young aspiring actors in supporting roles. The plays are A Company of Wayward Saints (1963), George Herman's best known play, and Sherlock Holmes: The Sleeping Detective (2013) by local playwright James Dean, which is making its Gilbert debut.
A Company of Wayward Saints is about a traveling commedia dell'arte troupe searching for a way to finance its trip home. The cast includes two of Fayetteville's seasoned actresses, Joyce Lipe and Rhonda Brocki. Lipe is one of the Gilbert's founding actresses, creating the role of the narrator six consecutive seasons in the Gilbert's centerpiece production A Christmas Carol. Brocki has worked on both sides of the footlights as an actress, choreographer and stage director. She directed and choreographed The Rocky Horror Show at the Gilbert for four seasons.
Brocki stated, "I am excited to be back on the Gilbert stage since last performing in Long Days Journey Into Night, in 2011. This is my first time doing commedia dell'arte, which I find a very interesting type of theatre. It is fun and big with lots of physical movement. There are some very funny moments along with some moments that touch the heart. The group of actors has been very professional, hard working and kind. This is an ensemble piece and we are all working well together."
Sherlock Holmes: The Sleeping Detective is a new work by local actor and playwright James Dean, directed by guest director David Little. The show takes place in September of 1930.
When asked about his play Dean replied, "Several years ago, I played the role of Sherlock Holmes at Harnett Regional Theater. I really enjoyed that experience but the play itself (Sherlock Holmes, the Final Adventure) merely stitched together two of the Sherlock Holmes stories. I thought I could do something more interesting with the characters, so I gave Sherlock Holmes a few personal problems: age (he's 76 and retired), damaged legs and narcolepsy, a chronic sleep disorder. Because of the narcolepsy, there is a mixture of reality and dreams and often we are not sure what is real, what is dream or what is in the past. One thing we know for sure: Holmes is not the man he used to be and he has to constantly remind his good friend and caretaker, Dr. Watson, of that fact."
This is Dean's second experience with David Little, who directed him as Scrooge two years ago at the Gilbert. "We got on famously during that production. I happened to mention that I wrote this play about Sherlock Holmes and he said he wanted to read it because he loved Sherlock Holmes."
The cast of Sherlock Holmes includes the playwright as Holmes and his colleague, friend and fellow actor, John Doerner as Dr. John Watson. Doerner is a drama teacher at Reid Ross High School and FTCC, a director and actor who has performed on stage in more than 100 productions. He is what many would call a consummate artist. When asked about the casting of the performance Dean added, "I always had John Doerner in mind for my Watson. We have worked together a number of times through the years but working with John is never enough. You always want more. Not only is he one of the best directors I have worked with but a fine actor and our on stage time together had always been in roles that did not allow us much extensive stage time together. The Sleeping Detective solves that problem, and now the action begins!"
Don't miss this exciting opportunity to see some of Fayetteville's finest and most loved thespians. The performances take place May 29 through June 15, Thursday – Sunday, with 2 p.m. matinees on Saturdays and Sundays; Thursday – Saturday nights at 8 p.m. The shows alternate so contact the Gilbert for proper show times and reservations. www.gilberttheater.com.DR. GAIL MORFESIS, Contributing Writer COMMENTS? Editor@upand-comingweekly.com.