For more than 60 years, the Fayetteville Kiwanis have put talented local students in the spotlight during the Fayetteville Kiwanis Talent Night Showcase. The show, which is open to students pre-school through 12th grade, is on Friday, June 13 at the Cape Fear Regional Theatre.
"The Talent Night Showcase is a very unique event in our community," said Bill Bowman, one of the organizers of the event. "This is the 63rd Annual Kiwanis Talent Showcase. It has a lot of history and longevity in this community."
Bowman said that longevity comes from what is at the heart of the showcase: showcasing the talent of Cumberland County's greatest natural resource: its people.
"It has had such a long, successful history because it not only showcases local youth and gives them a chance to perform; it also accentuates the talent that we have in the community," continued Bowman.
Bowman said that by nurturing that talent at a young age, the Kiwanis have helped many Cumberland youth along on their journey as performers.
"Many of the children who compete in the Kiwanis Talent Showcase have gone on to professional careers in music and in the arts," explained Bowman. "We have had winners who have played at Carnegie Hall, joined the Boston Pops and performed on Broadway. Some of these students have competed for years and years, and through their lives, we have had a significant impact on the community."
Of course, the real key to success is the talent that can be found in Cumberland County students. Each year, the Kiwanis hold an audition that draws a large number of talented performers. This year, more than 150 students tried out for the 27 open spots in the showcase. The students put their best foot forward, singing, playing musical instruments and dancing to get a shot at the showcase.
Bowman noted that it was not easy paring the large pool down to almost a quarter of its original side. "I'm thankful I wasn't the one who had to make those decisions," said Bowman, while praising the judging committee, which is headed up again this year by Bob Cogswell, a Kiwanis Club member and local attorney.
"Bob has headed up the judging committee for more than 30 years," said Bowman. "And, he brings a diverse group of judges to the table."
According to Bowman the judges are from the performance programs at area universities, music and dance academies, as well as local leaders.
"The judges have to be able to recognize talent and then rate it," said Bowman. "Their success over the years is what has helped make this competition so successful. All of those folks who judge are very qualified in their fields."
The judges look at not only the difficulty of the performance, but also the stage presence of the performance. "When you get to this level of competition, you have to have someone who is well rounded in all aspects of performance," said Bowman.
While there are prizes, for many the biggest prize is the opportunity to perform on the Cape Fear Regional Theatre stage. "We can't thank Tom Quaintance enough for allowing us to carry us on this tradition at the theatre," said Bowman. "Tom is a huge advocate of the performing arts and is committed to building and showcasing local talent in our community."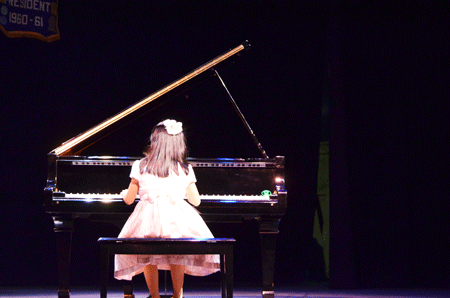 Prizes are awarded in several age categories, with monetary awards to performers who place in the first three spots. Other students may be offered scholarships to music and dance camps if they are top scorers in specific categories. Admission to the showcase is $7, all of which goes back into the community for programs that support children.
Bowman said that the event could not have occurred without the support of the Cumberland County Schools, lead by Frank Till. "Superintendent Till and his staff have done a great job at getting the word out and getting some very diverse acts to try out," said Bowman.
"When you come, you are going to see a little bit of everything from hip hop to very sophisticated piano pieces to violinists, bands and dancers," said Bowman. "We've got a little bit of everything, which adds up to create a really great show." T
he show begins at 7 p.m. and tickets are available a the door.