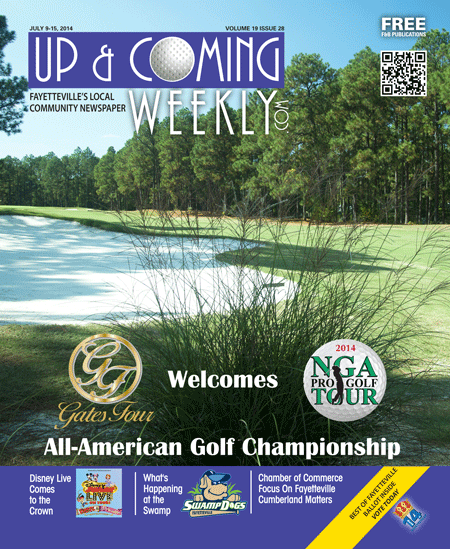 For the past 40 years or so Gates Four Golf and Country Club has provided the perfect venue for local golfing enthusiasts. Now, after nearly five years of renovations and upgrades, Fayetteville's premier golf course is set to host the country's third largest men's professional golf tournament – the NGA Pro Golf Tour's All-American Classic.
The event began on Monday, July 7 and will run through July 13. The event has an impressive list of golfing activities scheduled and an even more impressive list of of up-and-coming professional golfers. The NGA Pro Golf Tour is a new and exciting event for local golf fans and a great opportunity for Gates Four to showcase its world-class golf facility and exquisite gated golf community. No doubt the tour will also be an economic boost to the local Fayetteville and Hope Mills economy. While the tournament lasts only one week, it has been a long time in the making and, if all goes as planned, it could very well become Cumberland County's premier annual golf event.
"In 2010 and 2011, we did a major renovation of the greens, which were designed by architect Kris Spence. This brought all the greens up to U.S. Golf Association specifications including using A1/A4 bent grass. Course upgrades also included bunker renovations, an improved practice area, a chipping green and the addition of several tees," said General Manager Kevin Lavertu. "This put us in a position to host major tournaments like the NGA Golf Tour's Maxmotion Physical Therapy All-American Classic."
Gates Four was ready and it didn't take long for the word about Gate Four's renovations and new course upgrades to get out.
"Sometime in 2012, Bill McMillan wanted to bring a major tournament to Fayetteville. He asked if Gates Four would be interested in hosting it," explained Lavertu. "Of course we said yes, so he reached out to the NGA Pro Golf Tour."
The rest is history.
NGA Tour officials were impressed with the Gates Four track and the local Fayetteville community from the very beginning. In the course of the NGA doing its due diligence, tournament officials received feedback that was impressive and overwhelmingly positive about the community and the venue. With that in mind, the NGA committed to hold its signature event at Gates Four sight unseen.
"Senior Tournament Director at NGA, Todd Barbee, told us that this is the first time that they have ever committed to play at a golf course without actually visiting it first," said Lavertu. "But the response was so impressive that they were willing to commit for the 2014 event and
signed a three-year contract to return. We are looking forward to hosting them here at Gates Four."
As the third largest men's golf tournament, the NGA Pro Tour has had several national golfing champions come through its ranks; including stars like Jim Furyk, the 2010 FedEx Cup champion and PGA Tour Player of the Year, this year's Masters Tournament Champion, Bubba Watson and many others.
"No doubt, this is an organization and tour that helps develop aspiring golf professionals," said Lavertu. "This NGA Tour is a great opportunity for local golfing fans to see tomorrow's champions today. You may not recognize the names of the players now, but, chances are if you attend this tournament you will see the next generation of PGA golf professionals competing in future events like the Masters, U.S. Open or one of the other majors. Then you'll be able to say "Oh, I saw him play at the NGA Pro Tour at Gates Four."
While the layout and challenges of the newly renovated golf course drew these aspiring golf professionals to compete at Gates Four, the pro shop, full service club house and other onsite amenities were added bonuses for the players and visitors. Lavertu is exceptionally proud of the club's spacious newly designed 10-acre park, new event pavilion, championship tennis courts and many other amenities that make Gates Four Cumberland County's number one golfing destination.
"We've worked extremely hard to make Gates Fours a premier golfing location for tournaments such as the NGA Pro Tour. Our club memberships are up and we plan to continue to grow, develop and prosper by meeting and exceeding the needs and expectations of our members and the local Cumberland County golfing community," he said.
The National Golf Association's Professional Golf Tour, formerly known as the NGA Hooters Pro Golf Tour and the Rick "TC" Jordan Tour, dates back to 1988. Jordan was its owner and founder. The NGA Pro Golf Tour puts its emphasis on strong local community support, well-organized events and helping local charities. The NGA Tour assists more aspiring golf professionals in acquiring their PGA, Euro, Senior PGA and Nationwide Tour cards than any other developmental tour in the nation. With golf professionalism as the focal point, the golfing community and corporate America appreciate the high visibility and unique marketing and exposure opportunities that are presented and made available by the NGA Pro Golf Tour.
Gates Four invites everyone to attend. Admission is free for spectators. The Pro-Am event is scheduled for Wednesday, July 9 and the 2014 NGA Tour's All American Classic begins on July 10 and runs through July 13.
To find out more about Gates Four and the NGA Pro Golf Tour's All-American Classic, contact Bill McMillan at 910 978 2455 or visit www.gatesfour.com