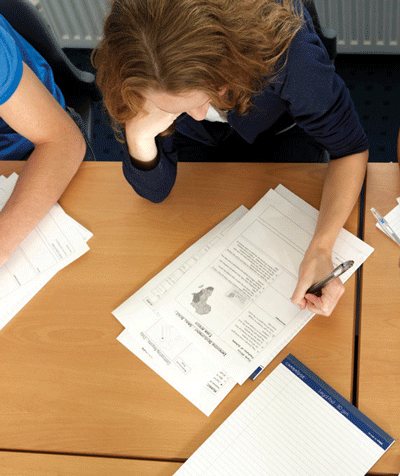 At FTCC, we are committed to providing educational opportunities to all qualified students. From Continuing Education courses to degree programs through curriculum, the options are numerous. For students who have a documented disability, the Special Populations Office exists to ensure equal access to FTCC options. The process of registering with the Special Populations Office is completely confidential, and no disability-related information is ever shared with anyone (including FTCC faculty and staff) without written consent from the student.
In compliance with Section 504 of the Rehabilitation Act of 1973 and the Americans with Disabilities Act of 1990 (ADA), FTCC does not exclude otherwise qualified persons with disabilities, solely by reason of the disability, from participating in college programs and activities nor are persons with disabilities denied the benefits of these programs or subjected to discrimination. Students with documented disabilities often need testing accommodations (such as extended time testing and separate testing location) and/or academic accommodations (such as note-takers, preferential seating, breaks as needed, etc.) in order to put them on an even playing field with other students. For example, a student who has severe arthritis and is unable to write would receive the accommodation of a note-taker in his or her classes in order to get thorough copies of class notes.
Students are often unsure if their diagnosis qualifies as a disability. The ADA does not give a strict list of what does (and doesn't) qualify. Instead, the ADA requires that certain criteria be met in order to determine a disability. Any student who has a physical or mental impairment which substantially limits one or more major life activities (including walking, seeing, hearing, speaking, breathing, learning or working) is regarded as having a disability.
Students who need accommodations should visit the Special Populations Office at FTCC to begin the intake process and complete the following steps:
1. Submit the completed intake packet. A Special Populations Office staff member will be glad to explain the Intake Packet and answer any questions.
2. Provide appropriate medical documentation. Medical documentation must be current (within 5 years). Again, Special Populations Office staff members are available to answer any questions students may have about documentation.
3. Each semester, students are required to submit a copy of their current class schedule in order to receive accommodations.
4. The completed intake packet and medical documentation will be reviewed by the Special Populations Coordinator.
5. Once the review is complete, the student will be contacted to schedule a meeting with the Special Populations Coordinator to discuss specific needs and accommodations.
6. If accommodations are approved, the student will sign purple accommodation forms which will be sent to each instructor. (Accommodation forms only contain information about the accommodation, not information about the specific disability.)
For more information, please call us at (910) 678-8349 or visit our office at the Fayetteville campus in Cumberland Hall, Rooms 313A and 314A. We look forward to assisting you with your educational goals!
Photo: For students who have a documented disability, the Special Populations Office exists to ensure equal access to FTCC options.