Students at Fayetteville Technical Community College (FTCC) returned to campus this fall to find the newly redesigned Student Learning Center. Many changes have taken place at the Center since July 2014. Formerly known as the Success Center, the Student Learning Center opened with a renewed focus and concentration on student success and outcomes. The Center's 300 percent increase in enrollment is a result, in large part, of the strong support and commitment by faculty and staff and the focus on maintaining a customer friendly environment.
The Center has undergone some significant changes instituted throughout the fall semester including hiring a new director to focus on all operations, optimizing the hours of operation and training the Center's staff as certified tutors. As Director of FTCC's Library Services, I also took on (in October) the responsibility of Director of the Student Learning Center. As recently as November, the Center closed so that staff members could receive training through the National Tutoring Association (NTA), with all Center staff members achieving certification. The Center, as an entity, plans to complete the NTA certification process throughout the spring 2015 semester. New hours of operation for the Center were adjusted to provide more instructional assistance, particularly during peak times for students. New hours of operation are Monday through Thursday from 8 a.m. to 7 p.m. and Fridays from 8 a.m. to 5 p.m.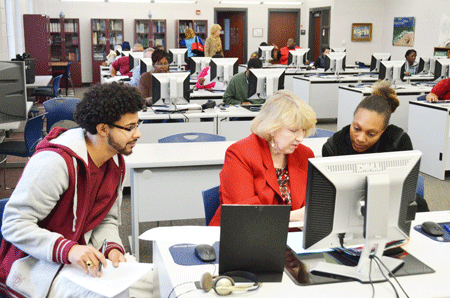 The Center currently employs nine tutors who assist students who have questions about coursework or who need a better understanding about learning concepts. Along with the relaxed learning environment, students appreciate the assistance they receive — available without an appointment. The overall goal of the Center is to assist students in ways that lead and encourage them to become independent learners.
The mission of the Student Learning Center is to provide supplemental instruction and resources to FTCC students to help them succeed academically. We provide students individualized and/or small-group instruction covering a wide range of subjects, such as English, mathematics, science, and business-related courses, such as accounting.
The Center's tutors guide students in the use of available learning resources. Examples of these resources include course-specific computer software, audiovisual aids, print materials, the SmarThinking online tutoring service (which provides 24/7 tutoring for all students), and daily workshops on academic topics across the various curriculum programs offered at FTCC.
Beginning in January 2015, the Center will open three additional subject-specific centers: Math Center, Science Center, and Writing and Communication Center. These three additional Centers will be located adjacent to the Student Learning Center within the Harry F. Shaw Virtual College Center (VCC), Rooms 231-233.
FTCC wants students' academic experiences to be both enjoyable and successful. FTCC students entering the newly redesigned Student Learning Center will be greeted in a friendly, welcoming environment by a Student Learning Center tutor who is equipped through professional certification, engaged through a desire and love for teaching, and focused on helping students achieve success and complete their programs of study. Visit FTCC soon to learn how you can succeed!
Photo: Formerly known as the Success Center, the Student Learning Center opened with a renewed focus and concentration on student success and outcomes.