The FireAntz's Jan Safar has been explosive on the ice this season, leading the league in scoring as a defenseman, recording two goals and 20 assists for 22 points through his first 30 games.
Safar, born in Prague, Czech Republic, is a passionate 27-yearold who immediately fell in love with the game of hockey at the young age of 7. His love for the game of hockey has only grown from the time his grandpa taught him to skate. Safar looks up to his grandpa for planting that seed, which then blossomed as his love for the game of hockey grew.
As a talented defenseman for the Antz, Safar has proven to be quite the team player as he leads the team in assists. Safar's game day routine consists of waking up early, going for a light skate, followed by a pasta platter for lunch around 1p.m. and a good snooze.
He has enjoyed his time here in Fayetteville and says that Military Night was his best experience since coming to town.
"It was a great atmosphere," he said. "The fans were great; really fun to play that game."
Safar hopes that his love and passion for the game of hockey will assist him "to lead the FireAntz to win a championship in the future."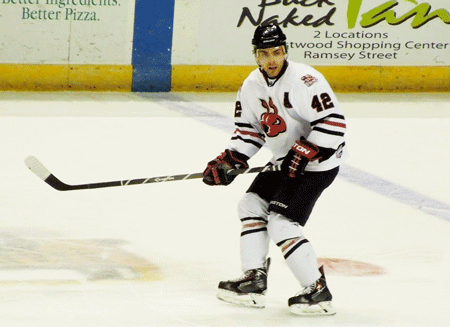 In his spare time, Safar enjoys the finer things, a little bit of cooking, going for walks, watching movies and working out. He's a huge fan of sushi and his favorite restaurant in Fayetteville is Shogun.
Safar's hockey career has landed him far from home, which allows him little time to see his two younger sisters and the rest of his family. It's a huge sacrifice that the average fan may not consider when attending games. Many of the FireAntz players share this common trait, which is what makes the bond of these teammates so unique — they're a family.
In the off-season, Safar spends time with his girlfriend in Canada, training for hockey and teaching at hockey schools when he can.
Fast Facts About Jan Safar
Favorite Song: Hideaway by Kiesza
Favorite Movie Braveheart
Favorite Sports Teams: Sparta Praha and Toronto Maple Leafs
Favorite Sports Aside From Hockey: Tennis and Skiing
Photo: Jan Safar, a native of the Czech Republic, is a talented defenseman, who leads the
FireAntz team in assists.