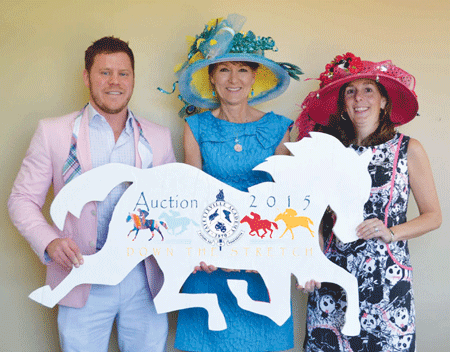 Fayetteville Academy was established in 1970, and since then, it has maintained a sparkling record as an incredible learning institution. The faculty and staff maintain small class sizes and cultivate an atmosphere that encourages creativity and learning. In addition to receiving funding through tuition, the academy strives to foster excellence through its events. On March 6, Fayetteville Academy is set to host Auction 2015.
"Money raised will help support several upcoming academic, athletic and art initiatives. Through Auction 2015, we will ensure Fayetteville Academy's continued growth and maintain our tradition of excellence as we prepare our students for their futures," Bill Jordan, chairman for the 2015 Auction Committee, said.
This is a silent auction. "All items up for auction will be on display for guests to view the night of the auction. Each item will have a bid sheet, which allows each guest to place their bids for the particular item they are interested in taking home. At the end of the evening, the guest with the highest bid wins that item," explained Jordan.
A wide variety of items are up for auction, which have been donated by community members. According to organizers, there is something for everyone.
"Items include beach weekends, jewelry, gift cards, sports memorabilia and sporting event tickets to name a few," said Jordan.
Ray Quesnel, the headmaster of the school, sees this event as more than a fundraiser. "The auction, which we have every other year, is an opportunity for the community to come together — both internally and with outside friends — this is a great friend builder and a chance to get in touch with and get to know the people in the community," said Quesnel. "We make it a fancy and fun night for everyone."
"Our theme this year is 'Derby,' and we hope everyone will dress up in their best bowties and derby hats," said Jordan. "Awards will be given to the best dressed and best hat of the evening. We have sponsors who have generously donated food for the evening including B&B Catering, Inc., Bombay Bistro, Carrabba's Italian Grill, Elliotts on Linden, Hilltop House Restaurant and Catering, Pierro's Italian Bistro, R Burger and Sherefe'. Beer, wine and spirits are being provided by Healy Wholesale and Paddy's Irish Public House. There are also plenty of activities planned, which include a tuition raffle, casino tables, video horse races, horse shoes, corn hole and the live and silent auctions."
Without fundraisers like the auction, the Fayetteville Academy would not be what it is today. It is necessary for continued growth and to maintain the many inspiring programs that so greatly benefit the students. This knowledge motivates everyone who is involved in organizing this event.
"Being involved with the auction allows me to support Fayetteville Academy and the work they are doing with their students. It is very rewarding to see the money raised by this event and other academy fundraisers actually being put to use for the benefit of both students and faculty," Jordan said.
Quesnel noted that the proceeds from the auction will be used for continued improvements on campus — to improve facilities and programs.
"This is our biggest fundraiser. We are looking forward to a good time. The support so far has been amazing and we appreciate it so much," concluded Quesnel.
The auction is set for March 6, at 6 p.m. and it is open to the public. The event will be held on the Fayetteville Academy campus located at 3200 Cliffdale Rd. Tickets can be reserved ahead of time by contacting Sonya Jenkins at 910-868-5131, ext. 3312. The tickets are $60 per person. Raffle tickets are also available for purchase for the chance to win one year of tuition or $2,500. For more information, visit www.fayettevilleacademy.com.
Photo: Organizers of the Fayetteville Academy's biannual fundraiser ( pictured above: Bill Jor-dan, Auction Chair, Sonya Jenkins, Director of Alumni Relations and Publications and Emily Schaefer, Acquisitions Chair) are planning a racing good time with Derby Hats and outfits. The silent auction is on March 6 at 6 p.m. on the campus of the academy.