Anyone who has been to downtown Fayetteville recently already knows that it is the place to go for great food, fun shopping, unique art and local entertainment. There are no chain stores to be found. Instead, unique shops, galleries and eateries offer experiences that you just can't find anywhere else in town.
If you haven't been recently, this is a great reason to check out downtown: March 11-13, the Downtown Alliance and The Downtown Restaurant Association invite you to come taste all of the delicious downtown restaurants in the Spring Edition of the Small Plate Crawl. Local restaurants are eager to offer up their tastiest dishes and show the community that downtown really is a destination with a lot to offer. So get your passport for the Small Plate Crawl and check out the many flavors of downtown.
"We did the first small plate crawl last fall and had a great turn out," said Anthony Jackson, owner of Circa and event spokesperson. "We had close to 2,000 people come and it was the perfect way for the local restaurants to showcase our specialties to the public and to let them see what all we have to offer."
The answer to that is plenty. Participating restaurants include Blue Moon Cafe, Circa 1800, First Date Coffee Shop, Happiness Is Bakery & Sweets, Huske Hardware House, Marquis Market, Off the Hook Taco Emporium, Pierro's Italian Bistro, Sherefe, Sweet Palette, Taste of West Africa, The Coffee Cup, The Wine Cafe and The Tap House. Truly, the offerings are vast and varied with something for everyone.
How to participate: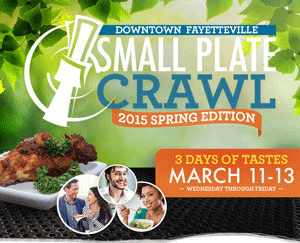 1. Pick up your FREE Passport at any participating location downtown or from a participating restaurant during the event.
2. Crawlers travel from restaurant to restaurant, purchasing plates over the three day event. Price of plates are from $5 to $10.
3. If anyone in a group purchases a plate, everyone in the group gets the Food Passport validated. Validation is simply the initials of your server with the date of your visit.
4. Those wishing to enter prize drawings will present a Food Passport for validation when paying at each restaurant. Food Passports must be validated at three or more restaurants to be eligible for the prize drawing. Anything over three validations will give participants an extra entry into drawing.
5. Qualifying restaurants are indicated on the Food Passport.
6. Crawlers leave their Food Passport at the last restaurant they visit during the crawl. Participant passports are collected from restaurants throughout the weekend.
7. Each qualifying Food Passport is entered into a drawing on March 16. Winners are notified by email.
Prizes include a one night stay for two at the Doubletree including a couple's massage, facial and pedicure and $50 gift certificate towards dinner (a $500 value). Lu Mil Vineyard is donating a one night stay in a deluxe cabin and a wine tasting for two. Other great prizes include a movie date night from The Cameo with tickets for two, cooking class for two at Sherefe's and wine class for two at The Wine Café.
"One of the great things about being a restaurant owner downtown is that we are each original." said Jackson. "It is easy to work as a team to put together something fun like this when we each have different flavors and dishes to offer. We have the restaurants that participated last year, and some new ones, too. So every plate won't be appetizers, there are dessert plates and coffee, too. That will add a new aspect to the plate crawl that I think participants will enjoy."
Jackson credits the hard work of the downtown community with making it such a fun place and this is one more event to engage the community and share all that downtown has to offer.
"With things like the Dogwood Festival, the International Folk Festival and 4th Fridays, it seems like there are more people coming to see what downtown is all about," he said. "We are seeing a much more diverse crowd these days, and that is very exciting. We love seeing more military families and young people coming downtown.
"Incredible, things are coming together. Our hope is that downtown is a destination for going out to eat, going shopping — for pretty much everything. Anything you can do at a chain you can do here and it will support local business owners, their families and the community," he concluded.
Find out more about the Small Plate Crawl at www.visitdowntownfayetteville.com/event/small-plate-crawl-4.