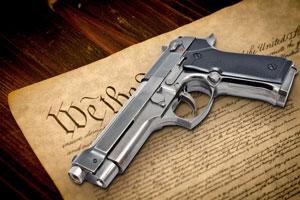 The Second Amendment to the U.S. Constitution protects the right of law abiding citizens to bear arms. The U.S. Supreme Court has ruled people may possess handguns for self-defense in their homes. But just this month the high court refused to hear a Second Amendment challenge to a local ordinance that banned semiautomatic assault weapons and large-capacity magazines.
While federal law governs the sale and possession of some weapons, handgun regulations for the most part are regulated by the states. Unlike most southern states, North Carolina takes a firm stance toward gun laws, which are perhaps the strictest in the southeastern United States.
The most significant difference between North Carolina and its neighbors is what some say should be a national requirement. North Carolina requires permits for purchasing handguns. Applications for permits to buy pistols are made at the local sheriff's office, which then conducts background checks. North Carolina firearms laws are outlined in a publication by the State Department of Justice updated just this month.
Permits will not be issued to drug addicts, former convicts, persons who are mentally incompetent or under a restraining order. Military veterans will be denied permits if they cannot verify that they were honorably discharged. If the sheriff's office is satisfied with its findings, a permit is issued.
The state legislature recently considered changing gun laws because of some ambiguity in local applications for purchase permits. Sheriffs in each of the state's 100 counties have some discretionary powers, so there are slight variations in the procedures. Some sheriffs require witnesses to vouch for an individual's character, while others may require longer waiting periods.
North Carolina gun possession laws are unique because they vary based on county. Registration of handguns is not required by state law, but can be found in some counties such as Durham. Cumberland County does not require gun registration. Concealed possession of any firearm is unlawful except on one's own property, or if the individual has a concealed carry gun permit.
Like the permit to purchase, a license to carry a concealed weapon is administered by the local sheriff. Basic requirements for a concealed carry permit under state include: residence in the state for at least 30 days, 21 years of age, successful completion of an approved firearms and safety training course, the completion of a shooting test, mental competence, a background check and a physical exam. The application itself will include a full set of fingerprints, a statement under oath and a fee of $100.
Openly carrying firearms also varies based on town and jurisdiction. "Open carry" refers to displaying firearms in public. State policy regards it as legal, but towns like Cary and Chapel Hill have adopted ordinances that restrict it depending on the size of the weapon. There's also a state law that grew out of the 1968 Federal Omnibus Crime Control Act. It applies to folks who "go around armed to the terror of the public" like carrying a shotgun on courthouse grounds.
Gun shows are very popular in the state, and it's nearly impossible to regulate such a popular industry. Gun shows create an opportunity for anyone to buy a gun without a background check.
"That alone creates an underlying problem of people who are not lawfully allowed to have a firearm, to include some violent criminals," says Earl Woodham, spokesman for the Charlotte office of the Bureau of Alcohol, Tobacco, Firearms and Explosives.