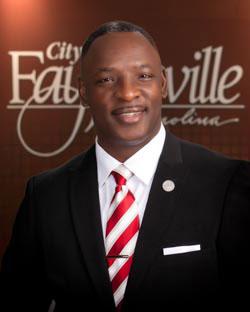 Local Government Terms Could Change
Fayetteville City Council has voted 8-2 to hold a referendum in November on whether its members should be elected to four-year terms of office. Councilmen Bobby Hurst and Kirk deViere voted against changing their two-year terms. Bill Crisp, Council's longest serving member, is also opposed but he voted with the majority to put the matter to a vote of the people.
Longer terms were Councilman Larry Wright's idea. He also wanted term limits placed on members, but City Attorney Karen McDonald said that's not allowed. State law permits cities, towns and villages to use either partisan elections or nonpartisan elections. Fayetteville and most other cities have nonpartisan elections, according to the N.C. Institute of Government. This form of local government emerged during the Progressive Era as a way of removing politics from city elections.
A few cities including Albemarle, Charlotte, Kinston, Lincolnton, Winston-Salem and a handful of others have partisan elections. If four-year terms pass in the fall in Fayetteville, they would be staggered with some members elected in alternate two-year cycles. Council members also have the authority to change elections to partisan contests if they choose.
Are Domestic Murders Preventable?
Fayetteville's third homicide of the new year was the outgrowth of a domestic dispute, according to police. Thomas McNair, 67, of 1018 Ellis Street, was found dead at his home last week. He was stabbed to death, said Police Lt. David McLaurin. Monaca Holt, 40, also of Fayetteville, was charged with second degree murder and jailed without bond. They were "involved in a verbal altercation which ended with Monaca Holt stabbing Thomas McNair," according to McLaurin.
Homicide is far and away the leading cause of death for black men, more than car accidents, suicide and diseases combined, according to Dr. Charles H. Hennekens, a professor at Florida Atlantic University. "Death is inevitable, but premature death is not. This is a devastating epidemic," said Hennekens. Minnesota Police Sgt. Randy McAlister wondered: Is it possible to proactively identify those most at risk of being killed by an intimate partner? He had just wrapped up a domestic homicide investigation. He studied the concept, and four years later his department introduced a domestic violence intervention program.
They call it the Lethality Assessment Program, which involves a structured 11-question interview of domestic violence complainants at the scenes of assaults. The questions are designed to elicit crucial information about the abusive partner, including previous incidents of violence.
Supporters believe these assessments are critical preventive tools in addressing intimate partner violence, which results in nearly one out of every seven murders nationally, according to the Bureau of Justice Statistics. Based on the interviews, if police identify a victim at apparent increased risk for murder, an officer makes an immediate phone call to a trained counselor who is able to discuss safety concerns with the victim.
Real-Time Bus Arrivals
The Fayetteville Area System of Transit launched a new high tech customer service this month. It's called Transloc, and is available on home computers and smart phones (fast.transloc.com). Bus riders can actually watch buses move along a map in real time. They'll see bus locations, bus stops and accurate arrival times. "The state-of-the-art app allows patrons to not waste time waiting for the bus," says Assistant FAST Director Kelly Blazey. Users can easily set favorite routes and stops and receive personalized alerts. Of course service outages, traffic and weather conditions can sometimes make times unpredictable. But being able to watch the progress of the buses live at home or on smart phones reduces wait times. "Riders can actually text inquiries to receive predicted arrival times for all routes serving the bus stops they're interested in," Blazey added. Patrons can also tailor their phones and computers with digital bus stops they use regularly. Multiple connection points are available for added customer convenience.

Nextdoor Goes to the Country
Cumberland County Sheriff Earl "Moose" Butler has announced that the Sheriff's Office is introducing the Nextdoor citizen crime prevention website for county residents. City Police initiated the Nextdoor concept locally several months ago. Now, the sheriff's office is using the social medium so neighbors can communicate confidentially among themselves. Local Emergency notifications are also made available on Nextdoor. Because it's a closed membership site, neither law enforcement nor non-members can eavesdrop on posts. For developments in your neighborhood or your community watch, the sheriff's office can connect residents with one another to "build stronger, safer neighborhoods throughout Cumberland County," said Butler.