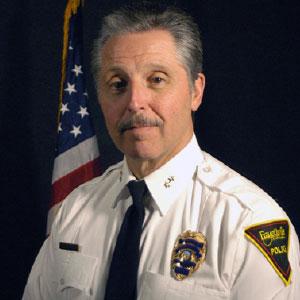 Harold Medlock has been Fayetteville's Chief of Police for more than three years. His idea of community policing is in sharp contrast to many other urban police executives.
"I just think the police department needs to be engaged in the community," said Medlock when asked about the high profile he keeps. "It's more about the police department being part of the community rather than an occupying force."
Medlock granted Up & Coming Weekly an interview in the wake of a young black man being shot by police in Raleigh. He believes investigations of officer-involved shootings must be completed quickly.
"I will put out all relevant information, good, bad or indifferent," said the chief. "We owe it to our citizens to share as much information as we can as soon as we can rather than to allow rumors and anger to fester. If, God forbid, we have an officer-involved shooting, you can expect me to release all that I can before the evening news."
An internal investigation shouldn't take more than 90 days, Medlock says. His decisions on police conduct would come immediately thereafter. Medlock said he would not wait for an SBI investigation to be completed, because the investigations can sometimes take up to a year.
"Yes, I think I would," was his response when asked if he would encourage city council to immediately release video camera footage of officer involved incidents. Council has that authority according to City Attorney Karen McDonald.
"It would have no bearing on criminal or civil cases because it is what it is," said Medlock.
He says the state legislature should loosen privacy laws that prevent full disclosure of misconduct. The chief also believes videos of day-to-day situations faced by the police should be made public.
The chief's transparency policy requires that the names of officers involved in use-of-force situations be released as soon as their families are notified. "We just don't believe in the Fayetteville Police Department that anything should be withheld," he said.
Medlock brought big city law enforcement philosophies to Fayetteville when he came here from Charlotte in 2013.
As for appearances, he believes "cops ought to look like cops," that they don't need to be walking around in intimidating uniforms. He was quick to add that American police these days must be able to match the firepower of the bad guys. Semi-automatic high-velocity rifles are standard issue for most Fayetteville police officers, in addition to their side arms.
Medlock says communicating with the public in difficult circumstances is critical. He spoke of situations that result in tactical teams using armored vehicles. He recognizes the need to keep crowds that gather informed of what's going on and why. The chief's wish list includes a camera-equipped unmanned aerial vehicle (UAV) or drone, which could provide officers full view of certain settings. He says unconventional equipment has become mandatory in order to keep people safe.
"The difference is when we use them we need to be able to tell the people who are watching us what we're up to," Medlock added.